In a trend made possible by the "everything's bigger in Texas" high-rise buildings in Houston, our clients side-stepped downsizing deciding to "upsize". The couple chose to move up into the sky to enjoy miles of panoramic views leaving behind their beautifully landscaped oversized lot of their suburban home.
Almost 5,000 square feet with 14′ foot ceilings and floor-to-ceiling windows revealing a 270-degree panoramic view, this Astoria penthouse would be considered downsizing by a rare few.
The Astoria rises 29 floors above Houston's Uptown Galleria area with its myriad of award-winning restaurants, luxury shopping, and diverse entertainment. The coveted address was just the perfect landing place after a long, successful career.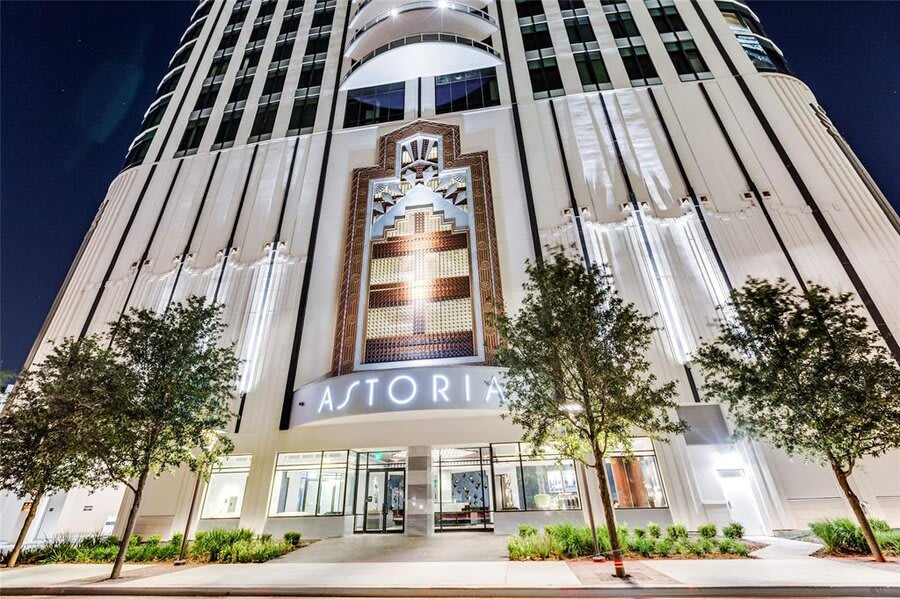 The couple, though not downsizing in the traditional sense, did find challenges in finding a place for all their treasures they wanted to keep. Their goal was to create a well-organized, contemporary, and elegant home in the brand-new penthouse.
We created spaces with contemporary lines and opulent finishes and utilized eggersmann's innovative solutions to maximize functionality and storage space.
The high-gloss handleless fronts throughout this tone-on-tone kitchen exudes Euro style. Though head-turning, the quiet palette does not detract from the views of this aerie.
Storage is maximized with tall wall cabinets and an expansive island that doubles as a casual dining spot. The all-Miele kitchen is ready for family meals or large dinner parties.
For a bit of added storage in style as well as a place to put serving trays and decorative items, we designed a floating credenza-style buffet for the dining room.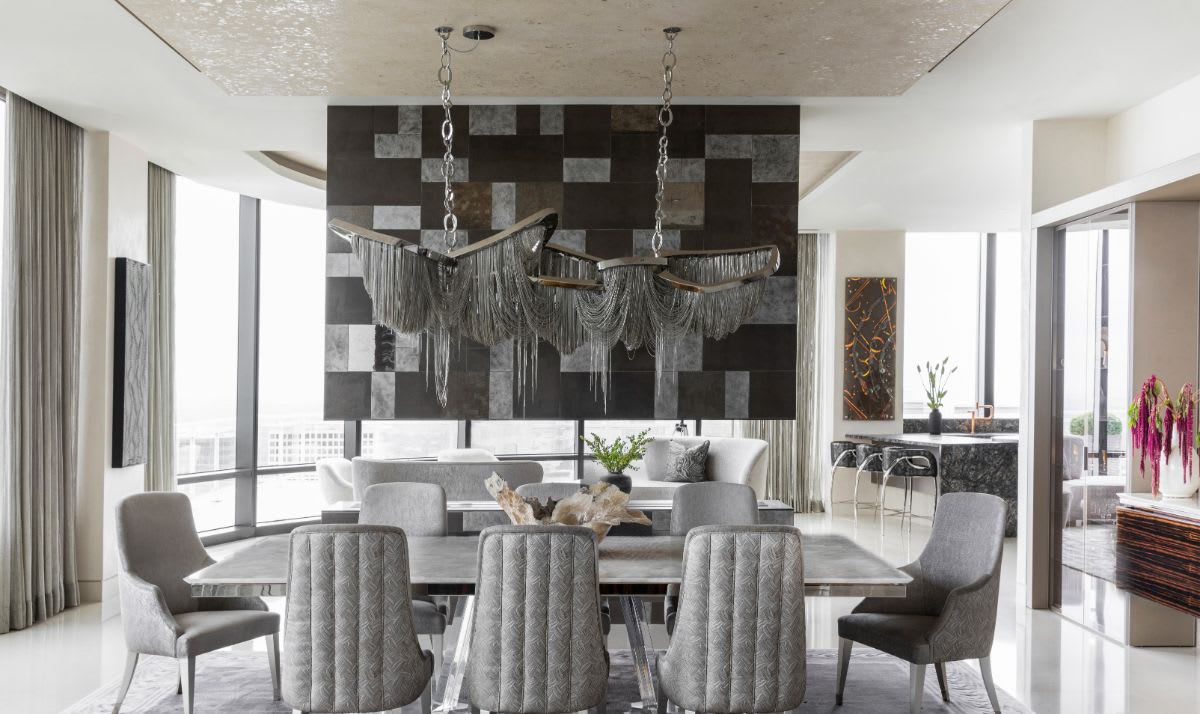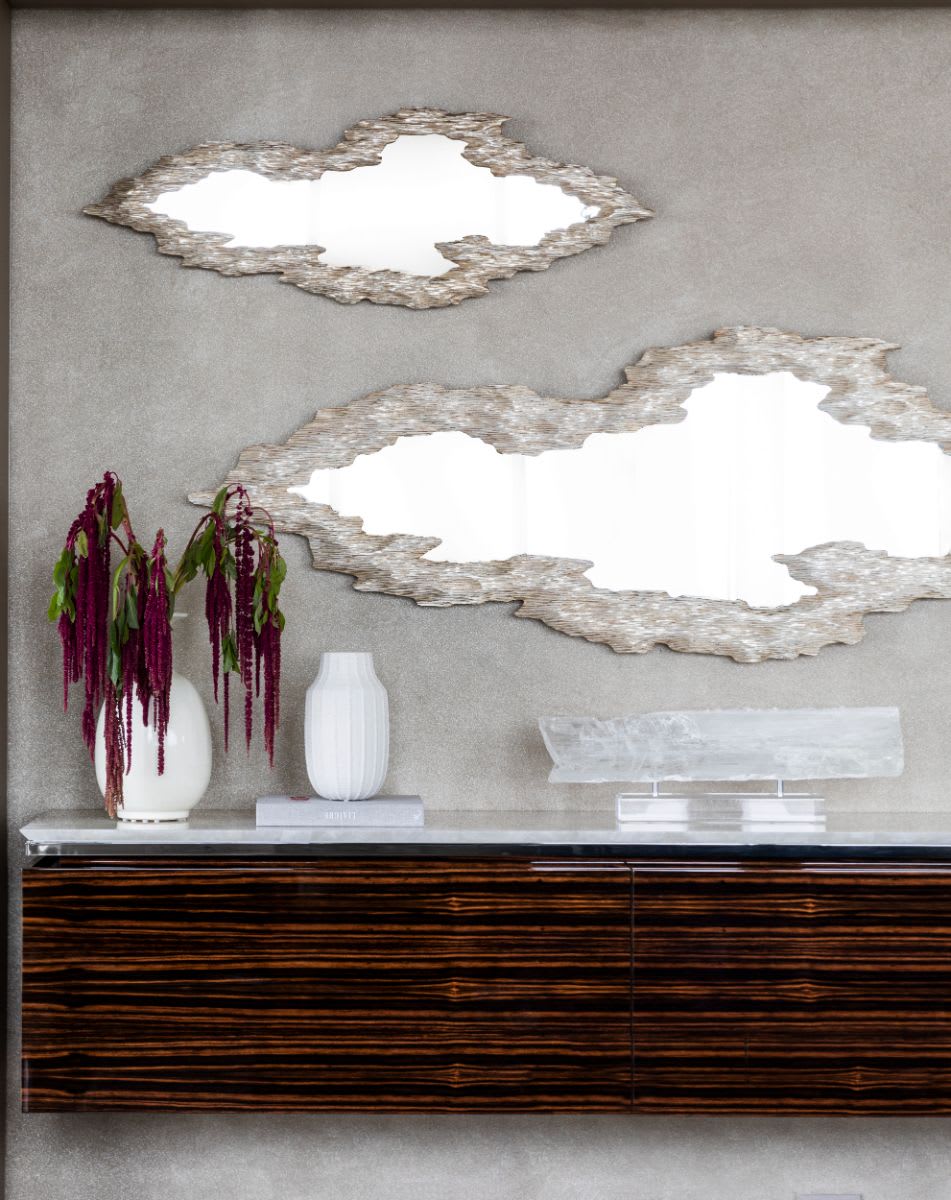 Dark horizontal grain-matched fronts on a wide variety of cabinetry sizes and features creates a statement. The handleless doors let the exquisite veneer shine through.
Built-in LED lighting adds a comfortable glow and makes finding your stored items easy.
The palette is very understated letting the decorative touches stand out so changing the mood of the office can be done seasonally. The drama?  Look at the ceiling! These unexpected touches is what we love about working with the Jennifer Burgess Loh interior design team.
Some are surprised that eggersmann designs and creates custom contemporary furniture. In addition to bespoke tables, chairs, and sofas, we utilize our versatile Schmalenbach line of cabinetry to create custom built-ins as well as beds. We created a dreamy oversized headboard with night tables in a restful palette for these homeowners. It must be challenging to go to sleep knowing that beautiful view is there.
Shhhh! There's a TV on remote-contolled riser hidden under the bed frame.
his & her walk-in wardrobes
After discussing and measuring the couple's fashion and accessories as well as how they wanted to use their closets, we designed shelving, drawers, hanging rods, and cabinet space for every need. Electric pull-down rods in both his and her wardrobes enabled use of the amazing amount of space at the top of the tall ceilings.
Some of our specialty features included are an automatic watch winder in his wardrobe and an automatic retracting mirror in her wardrobe.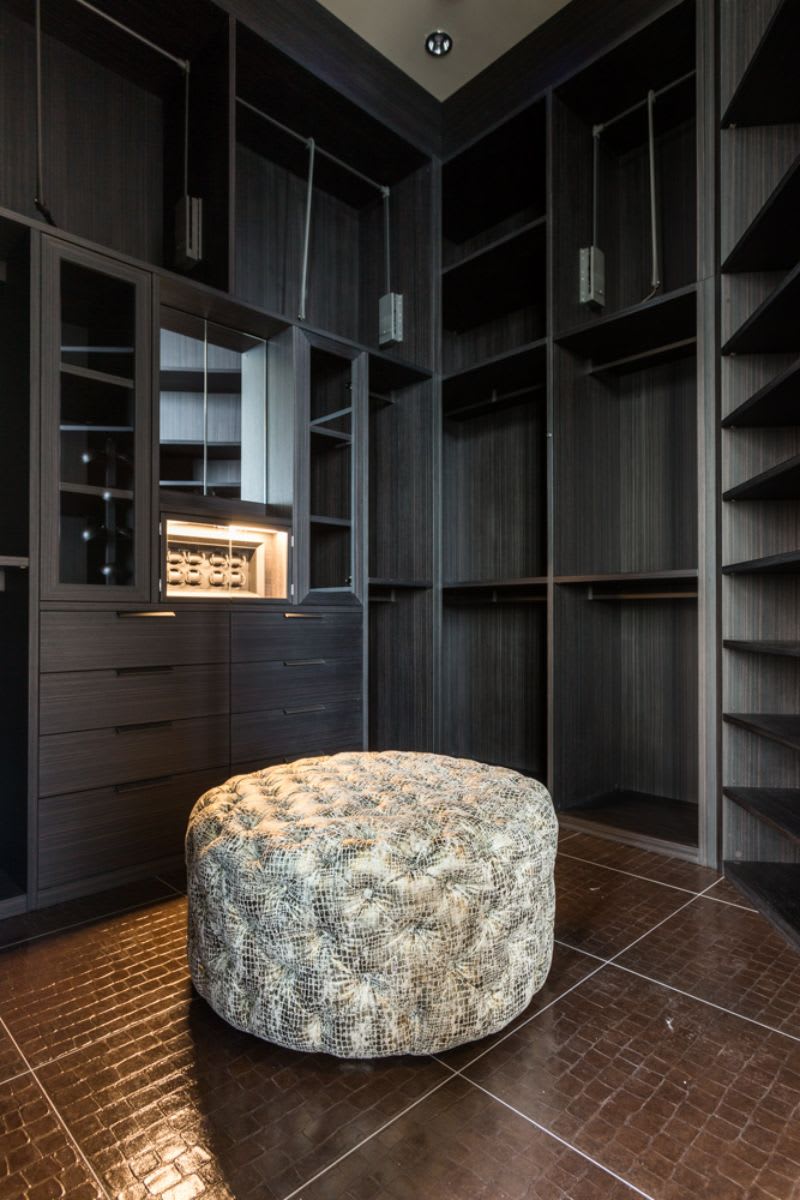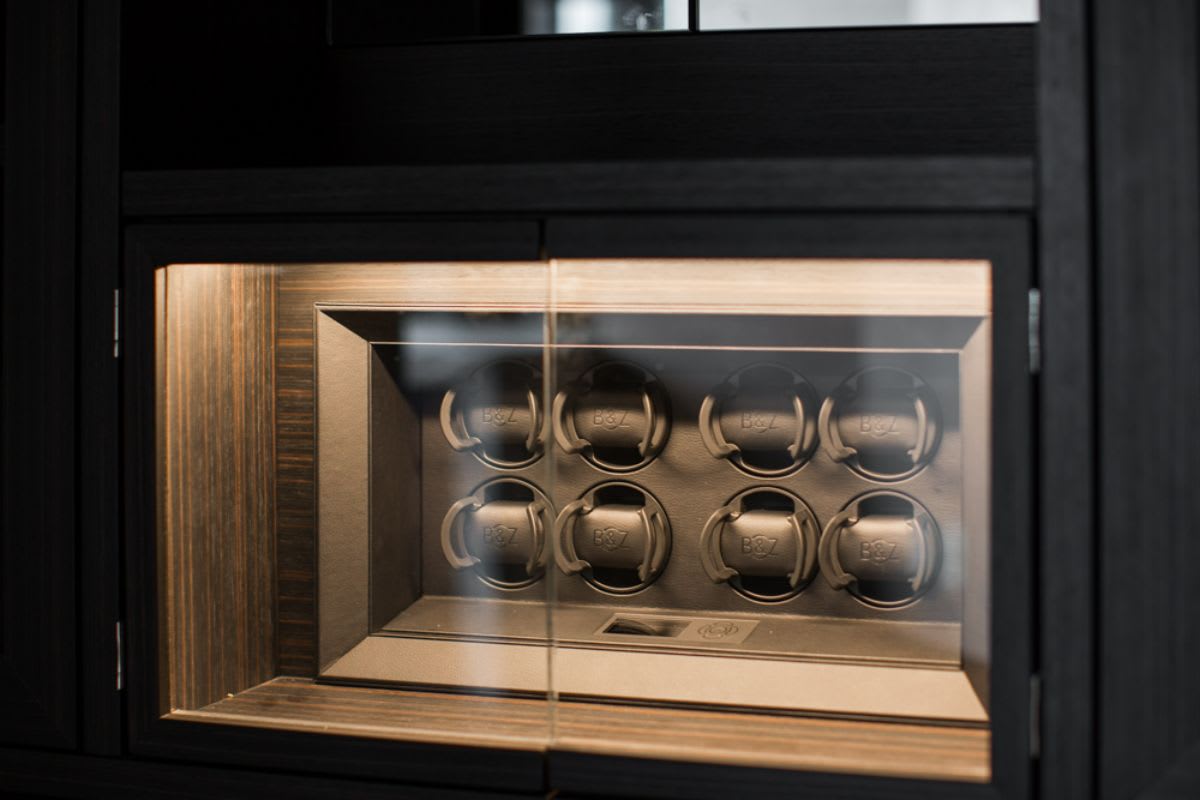 Powder rooms are always fun to design as even homeowners timid about bold design are usually willing to take a risk in these tiny jewel boxes. Luckily for us and for themselves, these homeowners had impeccable taste and recognized an opportunity for flair when they saw it. We designed a dramatic powder room vanity that the Burgess Loh interior design team expertly accessorized. The wall covering is fantastic!
kitchen
eggersmann and Schmalenbach ranges

Karate 8604 Icy White High Gloss Lacquer
Vancouver Macassar 3711 High Gloss

Hood: Futuro's Vince 48"
Countertop: Black Galaxy from Silestone
Sink: Siligranit II Sink Bowl with Kohler Faucet (K622C12CP)
dining room credenza buffet
Schmalenbach cabinetry range
Floating cabinet and glass display interior: Vancouver Macassar Ebony 3711 High Gloss
Frame: Leather Frame Skai Star Platinum
Glass doors: Bronze Aluminum
bar
eggersmann cabinetry range
Vetro Satinato Bronze
Vancouver 5525 Eucalyptus
Handle: 88510 Bronzed
Sink: JSG Oceana (009.009.500) with California Diva Faucet (E2012)
office
Schmalenbach cabinetry range
Vancouver 5525 Eucalyptus
Handle: 88510 Bronzed
master bed
eggersmann cabinetry ranges
Bed and bed frame: Vancouver 677 Fineline Ebony Tricolor
Headboard: Galucha Pewter Leather
her walk-in wardrobe
Schmalenbach cabinetry ranges
Vancouver 677 Fineline Ebony Tricolor
Calgary 656 Kubanit Metallic High Gloss
his walk-in wardrobe
Schmalenbach cabinetry ranges
Vancouver 677 Fineline Ebony Tricolor
his master bath
eggersmann cabinetry ranges
Vancouver 677 Fineline Ebony Tricolor
Kohler Archer Sink (K235547) with California Diva Faucet (E2012)
her master bath
eggersmann and Schmalenbach cabinetry ranges
Calgary 656 Kubanit Metallic High Gloss
Vancouver 677 Fineline Ebony Tricolor
California Diva Faucet E2012
powder room
eggersmann cabinetry range
Lille 1816 Black
kitchen
Miele 24" Speed Oven H6800BM
Miele 30" Oven H6880BP
Miele 24" Coffee Maker CVA6805
Miele 30" Freezer F1813Vi
Miele 30" Fridge K1803Vi
Miele 36" Electric Cooktop KM5627
Venice Futuro 48" Hood
bar
18" U-Line Ice maker 3018CLR
24" Subzero Beverage center UC-24BG/O
learn more about eggersmann solutions
"*" indicates required fields