Miele remains an independent family-owned company since its establishment in 1899. It is equally committed to its owners, employees, customers, suppliers, the environment, and society.
The company focus is on manufacturing domestic appliances for the kitchen, the laundry room and for floor care, as well as machines for use in commercial operations and medical facilities ("Miele Professional"). The strategic vision is to be the world's most trusted and desirable premium brand.
Miele offers products to its customers that set the standards for durability, performance, ease of use, energy efficiency, design and service. This corresponds to the guiding principle "Immer besser" which the founders Carl Miele (left) and Reinhard Zinkann printed on their first machines – and which characterises Miele to this day.
In its core business of home appliances, the company focuses on the sole Miele brand and its consistent positioning in the premium segment. Miele stands for long-term thinking and planning, continuity of values and goals, good relationships with customers and suppliers, as well as an employee-oriented corporate and leadership culture.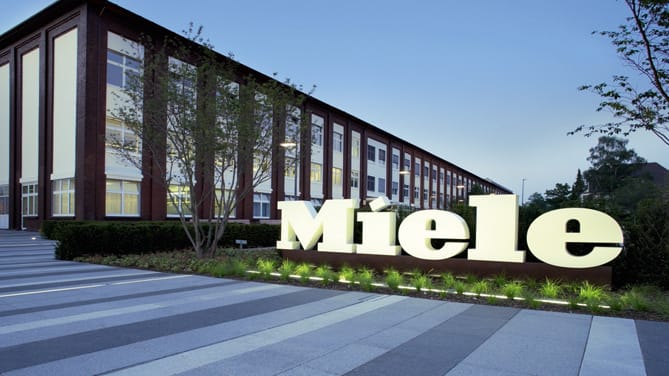 THIS ROW IS HIDDEN, INSTRUCTIONS ONLY. NOTE THAT THE GALLERY MUST BE CHANGED IN BOTH ROWS BELOW BECAUSE THE 2-COLUMN ONE IS HIDDEN ON MOBILE AND THE 1-COLUMN ON IS HIDDEN ON DESKTOP.
Share your email to get an occasional newsletter about all our amazing brand partners as well as innovations and other news about eggersmann. Want a designer to call you to talk about how Miele luxury home appliances and eggersmann can be a part of your project? Let us know!
"*" indicates required fields