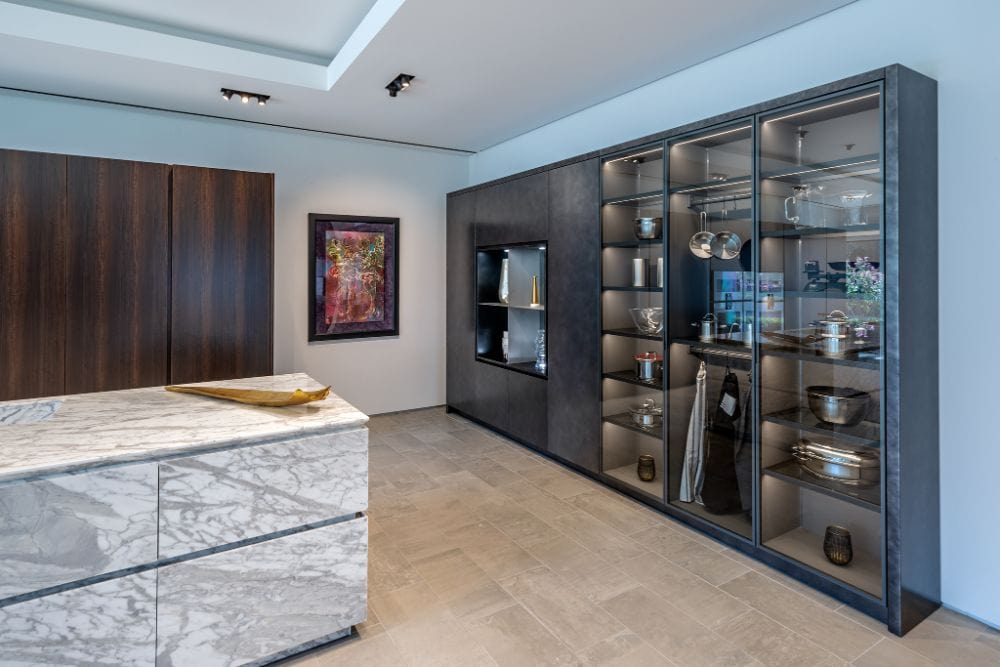 At eggersmann we continue our efforts to utilize sustainable materials in unique ways. Our use of glass is no exception. Our designers and craftsmen collaborate to seamlessly meld glass with aluminum, wood, and composite materials to create novel and original beauty.
The advent of glass-making is believed to date back to 3500BC. The naturally occurring compound of silicone dioxide is fused with temperatures over 3000° Fahrenheit to achieve the non-porous smooth surface.  Glass is neither a solid or liquid, but rather remains between the two states and is called an amorphous solid. Ever noticed old glass windows in buildings? That is because glass though having properties of a solid, continues to flow being pulled by gravity.
Eggersmann glass door styles are offered in six frame configurations and available in nearly unlimited color combinations.
[new] AR24
Our newest aluminum frame style consists of 4mm clear, bronze tinted, grey tinted, frosted, or smoked glass.  The frame is 24mm wide and available in 5 metal color options – bronze, chrome, matte black, titanium, and brass. This special low profile door is mounted using our invisible hinge system.
vetro
Our 4mm polished full overlay glass runs edge to edge with an aluminum-framed backer for structure.  This door style uses our standard self and soft closing hinges and comes in unlimited back-painted glass color choices with a selection of mirror-coated or tinted options.
vetro satinato
Similar to Vetro but the 4mm face of glass is a deep matt finish with minimal reflectivity.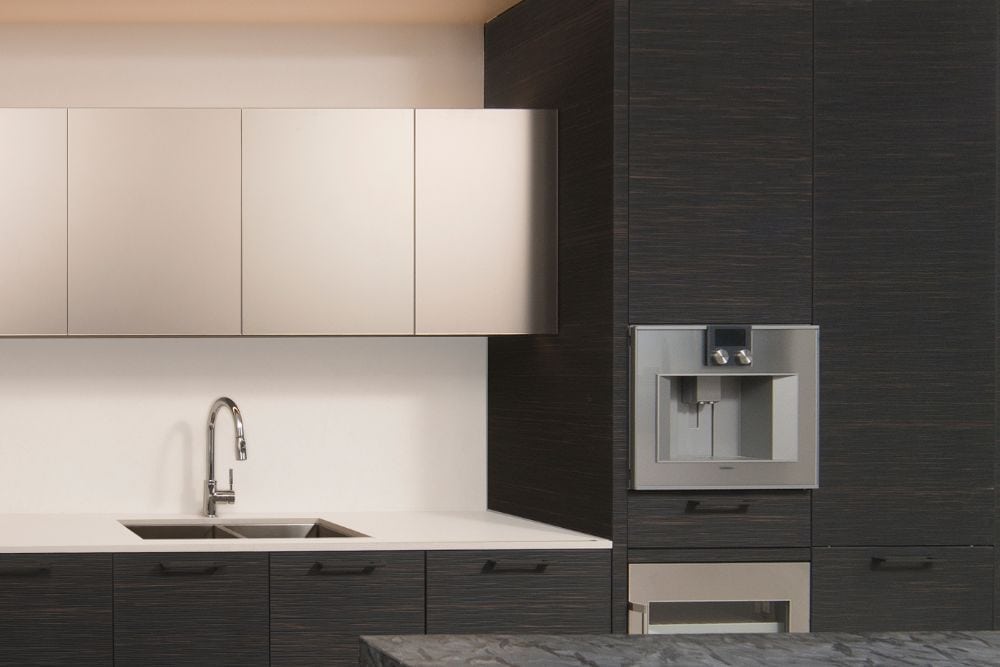 ABF
This is a framed version of the vetro style, 4mm glass available in both satinato and polished with a back painted frame in any color. The center section of glass can be transparent or semi-transparent.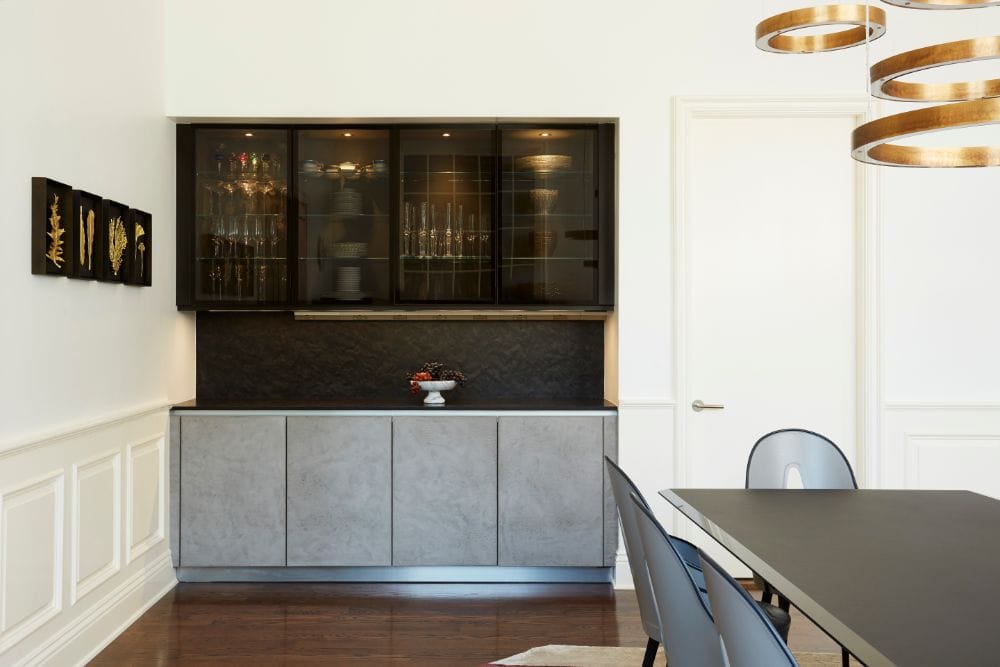 RG
This glass door style seamlessly transitions your surrounding cabinetry material integrated with a 4mm glass insert.  It is designed to match [or contrast] your selected cabinet material and is constructed from wood and clad with the cabinet range of your choice. The glass is battened from the inside and is available in clear, bronze tinted, grey tinted, frosted, or smoked colors.
home living glass solutions
Our wide variety of glass display options are perfect design statements and practical applications throughout your home: kitchen, wardrobe, media center, custom display cases, bar area…the possibilities are limitless.
The 20×20 and 30×30 full overlay glass doors are uniquely suited for extreme height construction and custom sizes typically needed for your home living space. Metal frames are available in extensive metallic colors and can be powder-coated to match any hue.  Glass options are virtually unlimited in the 4-6mm thickness range and various degrees of tinting, coloration, and opacity.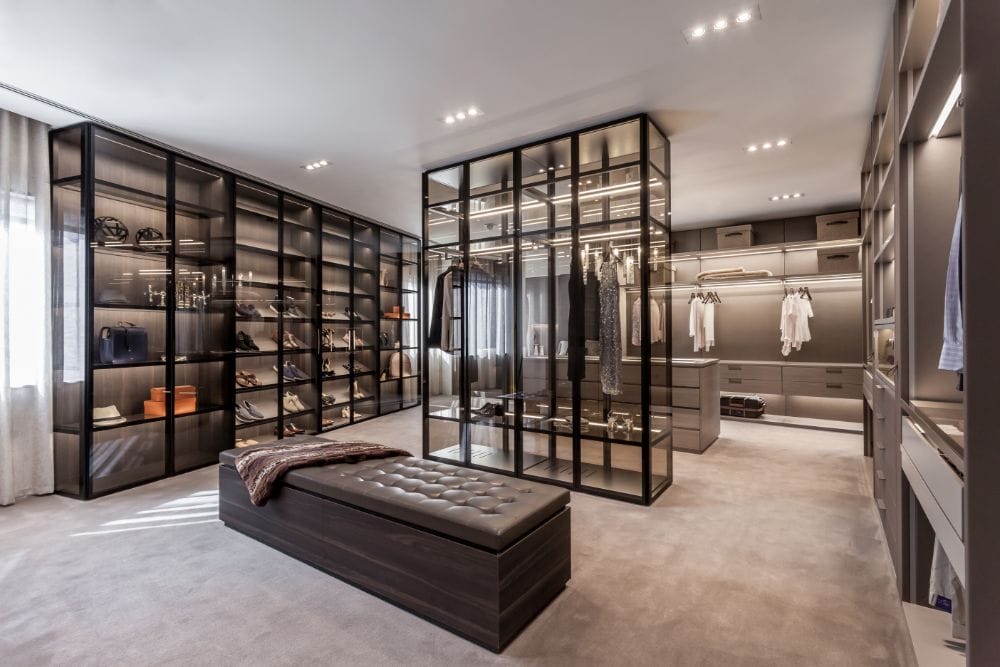 Aside from its natural reflective and attractive physical properties, glass is also the right choice for those concerned with hygiene. Glass is easy to clean and to maintain.  Taken care of in the right way, it will last you a lifetime. We recommend eggersmann glass cleaner to protect your glass surfaces.
We at eggersmann believe that beauty and art is all around us and should be used in our homes in every way possible.
In the immortal words of George Bernard Shaw – "You use a glass mirror to see your face; you use works of art to see your soul".
be the first to know
We are always innovating with new finishes, organization solutions, clever cabinetry designs, and new ways to think about your home for living, work, and play. Be the first to know about our news by subscribing below.