Our eggersmann Houston team thoroughly enjoys working with Houston luxury interior designer, Jennifer Burgess Loh, and her team. We also enjoy working with clients who are downsizing to Houston high-rise living, a situation that is quickly becoming a trend is our city where high-rise living is relatively new.
Our German cabinetry design team collaborated with Burgess Loh and the homeowners who were moving from a large Mediterranean home in an upscale community. Steven Goodman with Goodman Even and Interfin Architecture worked with the homeowners to combine 2 Belfiore units into a generous 11,000 sq ft aerie. The owners selected a blue and gray palette for their new palace in the sky. The cooler hues were a departure from their previous home, but added rich textures of walnut wood floors and trim, Venetian plaster ceilings, and unique wall coverings to add warmth.
The large footprint of the combined residences enabled a bountiful kitchen with adjacent prep, cooking, and entertaining areas that met all of the homeowners' desired storage and functionality for everyday living and hosting. Plus, room for a library, spa room, and craft room in a high-rise…now, that is luxury.
The warm dark woods are a striking contrast to the lighter, cooler tones throughout the rest of the home. Its oversized island with built-in dining invites family and friends to enjoy the heart of this home.
The whimsical wine cellar area is a completely separate area from the kitchen conveniently located near the terrace with spectacular views. The unique decor and ample seating along with incredible wine selection will make this nook a favorite of every guest. And the attention-grabbing cloud? It's a light and a speaker for streaming your favorite tunes.
For convenience and elegant entertaining, the butler's pantry provides plenty of additional storage and food prep space.
But the design of this more utilitarian space did not skimp on luxury. Glass-front cabinetry, tall vessel sink, exaggerated goose-neck faucet, and multi-light pendant drop create the ultimate butler's pantry.
Truly, a pantry designed to be a destination.
The laundry room is another utilitarian space that creates a high-end aesthetic for taking care of the chores. Exquisite attention to detail brings an unexpected elegance to the space.
The laundry area also added ample cabinetry for additional storage of cleaning products and supplies as well as additional household linens.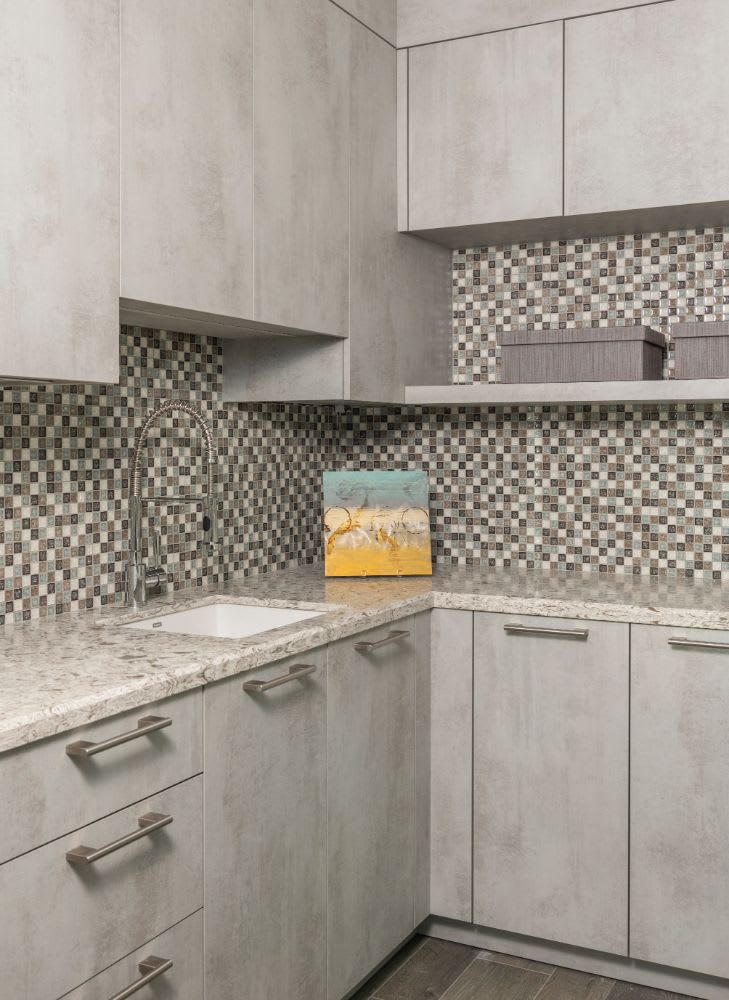 Drawers and hanging space abound in this oversized luxury walk-in closet. To display an extensive purse collection, glass-front cabinetry with built-in LED lighting was used for a very boutique look. Also, she requested a rotating corner tower for her shoes to offer good visibility and easy access.
A large central island is full of specialty drawers and an upholstered bench.
A pipe running floor-to-ceiling in the middle of the his and her wardrobe areas challenged the eggersmann designers. But they creatively integrated the pipe to disappear within the cabinetry without sacrificing wardrobe space.
Being Texas, it is not surprising that the homeowner requested a rotating tower for his extensive collection of cowboy hats to protect them and display them for his enjoyment.
A floating double-vanity separated by a mirror offered functionality and elegance while solving a frequent high-rise renovation problem of where to place the vanity and its plumbing.
One special feature of this master bath was the curved make-up vanity that required exceptional craftsmanship by the eggersmann cabinetmakers due to the curves and the finishes.
Off the master bath is a spa room with all the amenities of the most luxurious of day spas.
Glass, metal, and textures define a calming, peaceful space with all choices designed to give a nod to water and its movement.
library & elegant display cases
The library features an inordinate amount of shelf space and a unique backdrop to the desk area. The hidden entrance to the library and unique shelves for display throughout the home add interest.
kitchen
Island Side Panels: "Vancouver" Fineline Oak Grey Embossed #679 horizontal grain
Shallow Depth Cabinets: "Tokyo" Concrete Light #8903
Wall Cabinets: "Vetro" Range – Satinato (ABF Full Overlay Glass door)
Optic Glass Mirror: #981 (Silver Glass)
Miele appliances
Plumbing fixtures from Elegant Additions
butler's pantry
Suspended Base Cabinets: TOKIO finish #1: Concrete Light #8903
Glass display cabinets w/full overlay glass door panels: Aluminum Frame and clear glass door #3
Full height base cabinets: "Vancouver" Grey Oak Embossed #679 horizontal grain
wine bar
Tall and Base Cabinets: "Chablis" Vintage Oak vertical grain #3520
Wall Cabinets: "Vetro Satin" range in finish #2: Black Satin Glass #9017
Display Cabinet: "Chablis" Vintage Oak #5520 frame with smoked glass panel
Miele appliances
Plumbing fixtures from Elegant Additions
library
Frames: Walnut Veneer High Gloss #3527
Drawer Fronts: Smoke Red Gum High Gloss Veneer
Drawer Interiors: Walnut #3527
Top Panel: Walnut Matt Veneer Matte #3527
Large Back Panels: Smoke Red Gum High Gloss Veneer in a Star Burst Pattern
laundry
Doors: "Tunis" Range 2720 Concrete melamine
Plumbing fixtures from Elegant Additions
master bath:
Tall Cabinets: "Wave" Custom Color Lacquer S1002B
Base Cabinets: "Vetro" Range – Satinato Custom Color S1002B
Back panels of open niche towers of makeup vanity: 3 Form
Plumbing fixtures from Elegant Additions
spa
Sink Wall Cabinets: Oak Plank Grey #3509
Make-Up Vanity: "Vetro" range Grey Mirror #981
Plumbing fixtures from Elegant Additions
craft room
Base Cabinets, Scribe, and Vertical Panels: Pianovo Indigo blue matt
Island Cabinets and Tops: Nano Lotus White #2713
Horizontal Shelves and Back Panels: NCS S1515 R90B Light Blue
his wardrobe
Bench Island Side/Back Panels and Vertical Panels: "Vancouver" range, Fineline Luna Grey Matt Veneer
Bench Island and Island: "Vancouver" range, Fineline Anthracite Matt
Bench and Handles: Leather Flint #F5071002
her wardrobe
Glass Cabinet Doors: Parsol Grey glass with Stainless Steel Frames
Glass Cabinet Back Panel and Drawers: Fineline Luna Grey Matt Veneer