Organizing Tips for a More Joyful Life in Your Home!
When you visit one of our eggersmann showrooms for your personal design experience for custom luxury German cabinetry and home living solutions, you are not just picking out cabinets, finishes, and accessories. You are crafting the heart and soul of your new or remodeled home. Our team of designers and project managers understand that your kitchen means great food (catered or cooked on your Miele, Subzero Wolf or Gagganeau appliances), amazing conversations, and essentially, the best place on the planet to get to know you better.
And, we can help you envision and implement how that kitchen extends into your home. We will help you consider what fits your lifestyle and your floor plan. For example:
a comfortable, chic living or entertainment area
a well-appointed bar
a glassed-in, climate-controlled wine cellar to make a showpiece as well as convenient wine storage
a luxurious dining room with plenty of hidden storage for linens and service items
The list goes on. Our eggersmann team offers way more than kitchen cabinets. Our home living solutions extend beyond the kitchen into every room in your home. Many of our clients do not realize that in addition to cabinetry, revolving pantries, and solutions for storage and functionality, we design custom furniture, too.
With all these weapons of mass design at our fingertips, our team works with your designer, architect, or the client directly to create the energy, vibe, and style that says, "Welcome to MY home".
In spite of the individualism we bring to your home, we find that every project has a similar goal in mind: decluttering. Most people feel their best relaxed, inspired, and creative self when they are in a space that is organized. Often your guests won't know why they love hanging out in your home, but they will when everything is in its place with minimal clutter. Even if you have a large prized collection of sports memorabilia, unique teapots, Japanese dog statues, or even designer shoes, we help you display them to maximize their conversational value while maintaining the organized feel of your space (and protecting your valuables from dust).
If you are not ready for your kitchen, closet, or other home remodel project, you can still reclaim a welcoming environment and reinvigorate the energy of your home with our designers' tips below. Taking these steps for you and your home will have you ready to spend more time relaxing in your space and eager to entertain family and friends…you know, making your home a place where you want to be…and live. Taking these steps prior to a remodel can also really help you get in touch with what you need and what will make you happy in a newly remodeled room.
Tips to Create a Kitchen (or any Room) You Love to Be In
While the tips below focus on the kitchen because usually most clutter and unnecessary items lurk in there, you can easily adapt this checklsit to any room in your home.
How to Get Started: KonMari Principles
The hardest part is the first step: adjusting your frame of mind to prepare for the journey that will bring you to where you want to be. Do it for yourself…just start! Perhaps the KonMari principles will help you get started and stay focused:
Here is our take on the KonMari principles:
Give yourself a few days to envision living in your home the way you want to live with the people you love to have around. Really spend time dreaming and thinking on what it will look like and feel like.
This is the vision that will guide all your decisions and ultimately be your reward for completing your project.
Before you jump in and start tidying, it's important to visualize your ideal home and lifestyle. Tip: When you're ready to dive in, set a reminder or two for each day you plan to visualize so you remember to spend time on this and put a meeting with yourself on your calendar to stop dreaming and start creating a room you love.
Commit to completing the project. Once you are confident you have committed your heart to this and have your vision firmly in your mind, put milestones on your calendar blocking off time from other activities to ensure each step gets completed.
Prepare yourself to let go, if you have a clear vision of your ideal room in your mind, this will be easier.
The number 1 rule: Only keep stuff that "spark joy"…in some cases, you will need to keep a utilitarian item that does not move you to smile, but in those cases, think of how you use those items…and that should spark joy. Examples: A serving spoon or your leftover holiday wrapping paper may not bring immediate elation, but you will need them to feed your family and friends (or yourself) and to provide the experience of opening presents, so those uses should bring the joy to judge the item.
OK, so this is the least favorite task, but it sets the foundation for all the joy, relaxation, and enjoyment that is to come. Anytime you get overwhelmed, review the KonMari principles and remember your vision.
Prep by creating labeled bags and boxes for giving away to organizations or other people, redistributing items to other rooms, selling, recycling, trashing, and, if you must, marking to box up to throw away later for items you think you might need. Put a date on the box and toss it without looking within a year.
Open all drawers, cabinets, furniture with storage, or wherever you stash your stuff, everything but food…we will do that next. Yes, pull everything out into the open for inspection.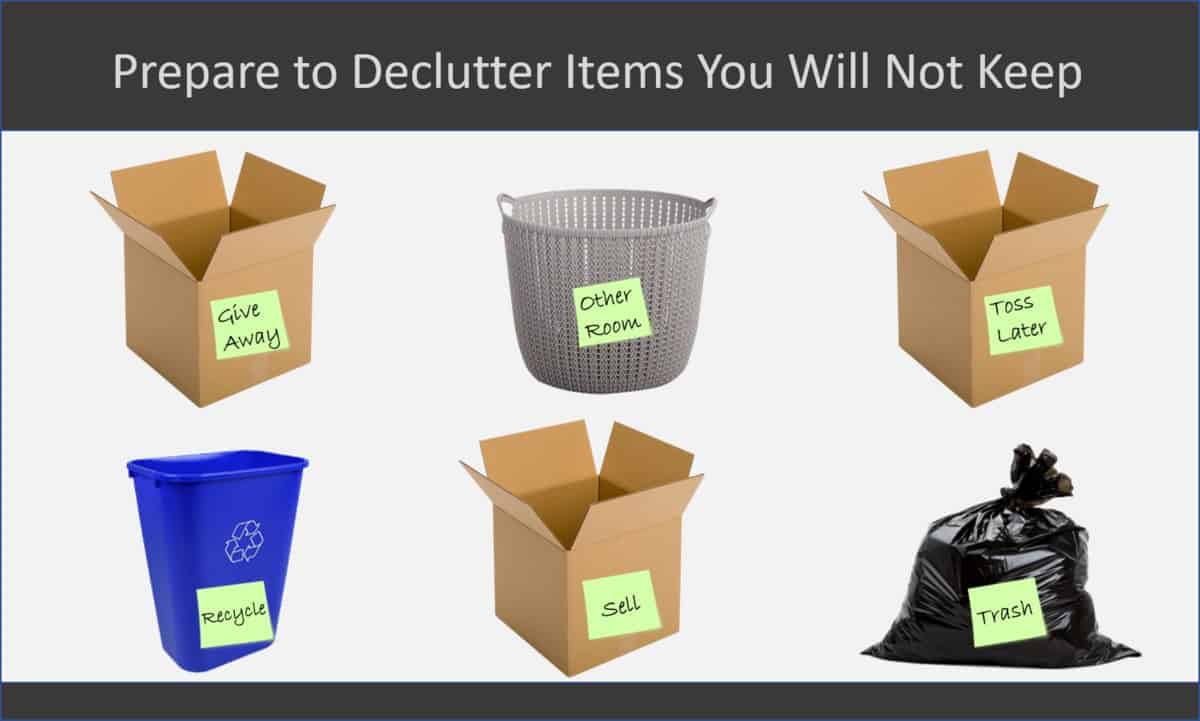 Consider each item. Is it useful? Do you really need it? Can you get rid of duplicates? Have you used it recently? If you really "need" a tiered cupcake stand, can you borrow it from a friend when you need it every 5 years? If you can live happily without it for the next 6 months, get rid of it. You can sell it, donate it, or give it to someone who might love it, or if it is really just useless, throw it away. If you decide to keep an item, but it is not useful in the room it is in, put it in your redistribute box. Tip: If you know you won't take the time to sell it, put it in the donate box.
Before putting anything back into your storage areas, really consider if each brings you joy or is necessary for future happy events. If not, get rid of it. Especially if something reminds you of an unhappy time in your life, like that cookbook to "Bust Belly Fat with The Clear Soup Diet". Banish stressful negativity from your home!
Keep Going, You Can Do It!
Wipe out all your drawers and cabinets, replace shelf and drawer liners, and prepare your storage spaces to home your special items you are keeping.
When returning your "saved" items to your storage areas, put things back by category so that they will be easier to find. Also, consider putting items away inside cabinets and furniture that were out in the open as you should now have more space. This will reduce visual clutter, bringing your vision of a tidy, relaxing home closer. No need to use specific containers and label everything, but you may find that these types of tools help you keep everything organized. But don't let media's vision of perfection keep you from getting started…your idea is the perfection you should go for and that may mean no labels!
If you need a break from decisions, put a meeting on your calendar for the next step, clearing out food items. If you are ready, move on!
Open your fridge, freezer, pantry, or anywhere you store food. Pull everything out. In the case of your fridge and freezer, just do them one at a time so you can put your keep items back quickly. Inspect each food item and get rid of anything really old, expired, or spoiled. Have diets changed and you will no longer use the item? Donate it. When putting things back, make a list of things you want to use in the next few weeks so they can be used before expiration.
Put your items back by category, putting items you want to use soon at the front for easy access and gentle reminders to stick to your plan of using what you have first.
If you find you are having trouble getting started or finishing, break your project up into mini-projects. Start with a very small project like a drawer. One small decluttering task can often get you excited about continuing.
All the decluttering can make a mess, but it also creates a canvas where you are "painting" your ideal room. This is the last "chore" before the fun and enjoyment begins, so keep your vision in your head!
Entice yourself to stay in the project room by using a few drops of your favorite essential oil on your cleaning towel. Pick a scent that gives you what you need or inspiration to keep going. Citrus or peppermint are energizing; lavender or spices are calming. Weather permitting, open the windows for fresh air!
Or, since no decisions are required, hire a cleaning service to deep clean.
Start top down using a ladder carefully to access light fixtures, ceiling fans, air conditioning vents, cabinet tops, and tops of tall furniture to dust and clean grime.
Wipe cabinets with the appropriate cleaning solutions for your finishes (if you have eggersmann cabinets, contact one of our showrooms for our finish care packages.)
Dust the blinds (both sides). If you have curtains, consider removing them for washing or dry cleaning. Roll up the blinds.
Wipe counters, and if a natural stone, this is a good time to deep clean and polish them, which should be easier now that you have stored away things from your counters.
And the last big chore before the fun part begins is to sweep or vacuum your floors and give them a good cleaning. If you have dingy tile grout, schedule a professional service to brighten the whole room and your mood with a good steam cleaning.
Make Your Kitchen an Inspiring Place to Be
You made it…a tidy, clean room. Your sense of enjoyment in your space should already be soaring, but now make your space inspiring and a deep reflection of your uniqueness.
Make the space easy to live in. Imagine how you regularly use your kitchen or other space. What items do you use often? Make sure they are easily accessible. Even if it means putting something like your smoothie blender you use every morning back out on the counter…remember it is what makes you happy that is important. Creating healthy smoothies daily probably trumps a 100% minimalistic look for you!
Is there anything that drives you bonkers? A rug that constantly moves out of place or a soap dispenser that no longer works…whatever is creating that negative vibe, fix it! Toss the rug or get a rug grip that works…buy a new soap dispenser…whatever it takes to make your room work for you, instead of the other way around, do it! You deserve it.
From the tchotchkes that you kept because they brought the happiest emotions to your heart, select a few to display. A family collection of recipes that your great-aunt bound for family members, photos of you and your college besties from last year's girl trip, or whatever it is that will lift your spirit every time you enter the room.
Add whatever you like to do or especially enjoy. Love music while cooking? Treat yourself to a nice bluetooth speaker tucked away on the top of a cabinet. If fresh flowers make you feel special, put them in your favorite vase on the counter…just remember to throw them away when they no longer bring you joy. Or consider an easy-care plant like ivy which also freshens the air.
Create your happy place, make it a representation of you. Start a list of upgrades in gadgets, appliances, and fixtures that would make your space an even more delightful sanctuary then plan when you will make them happen.
You did it! Now take your after pictures and compare! Inspire your friends by posting a few on social media. Once they see your joy, they will want it for themselves!
We've supplied the checklist, now it's your turn. What changes will you make? When will you get started? Need inspirational ideas? Drop by one of our showrooms as we have lots of organizational and style ideas for you to "steal".