The homeowner purchased an entire floor of this Houston luxury high-rise. Working with a local architect, builder, and interior designer, the floor's units were combined into one magnificent home.
The home's esthetic is classic with an unexpected edginess. Warm dark colors and a disparate choices of textures create and inviting place to live, play, and visit.
Art and artful furnishings are the focus of this one-of-a-kind home in the sky.
The ask: create a stone kitchen featuring classic stone and wood with completely hidden appliances.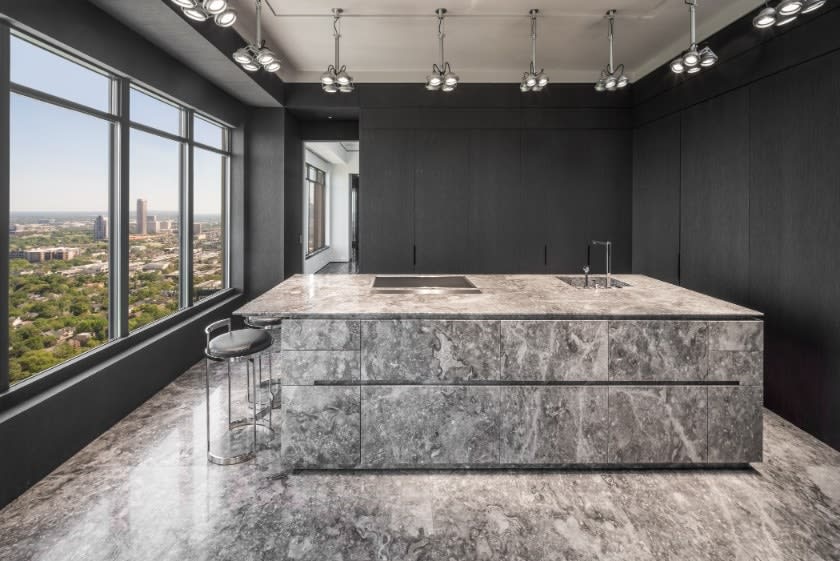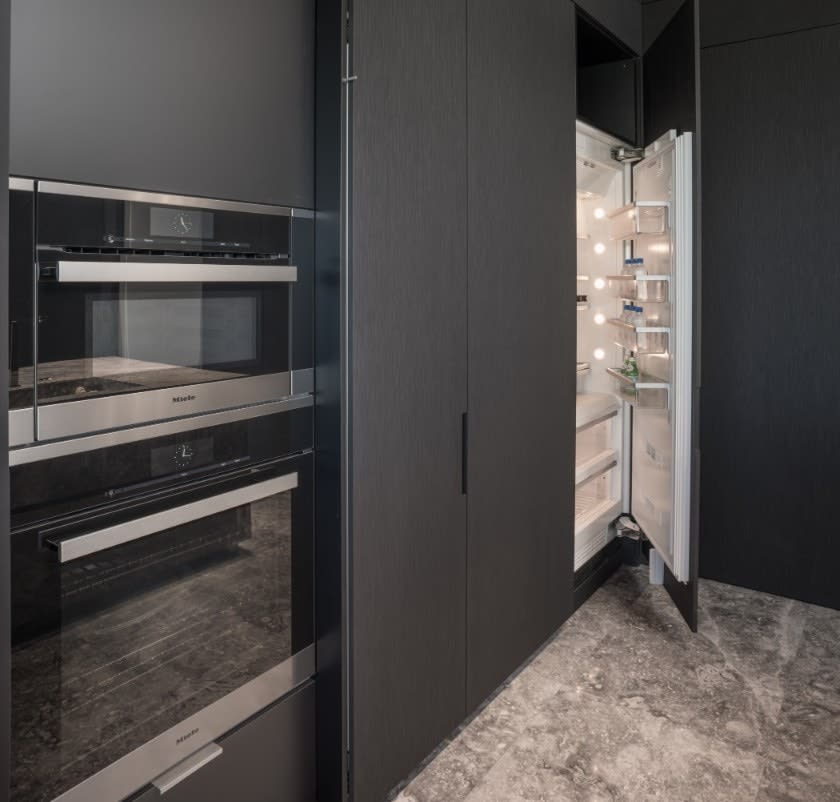 The homeowners fell in love with our Unique stone cabinet series but had their hearts set on a custom stone.
Our designers and craftsmen made it happen using their curated material to produce the eggersmann stone cabinetry and the kitchen flooring.
The idea was to have the island's stone cabinetry float and flow into the surrounding floor area. Along with hiding all appliances, pantries, and food prep areas beyond the island, created the ultimate minimalist kitchen.
The movement in the cool white, grey, black tones of the custom marble was enhanced by setting the background of the tall wall cabinets in our deeply textured wood paneling finish, Embossed Black.
A thoroughly modern Dornbracht faucet with angular styling compliments the strong right angles throughout the kitchen.
Though hidden when not in use, the Miele appliances and high-end integration refrigeration ensure this kitchen is ready for a family meal or the biggest of house parties.
The solutions:  an ultra-warm, yet minimal kitchen in the stone favored by the homeowner.
more on the full renovation
The homeowner and her interior designer, John Kidd of John Kidd and Associates, worked with eggersmann Houston designer, Evan Soltoff, to create a bespoke kitchen. The kitchen design team coordinated with architectural firm, Reagan & Andre, and Goodman Even Builders overseeing the full home renovation.
get more projects and news about eggersmann in your inbox
"*" indicates required fields