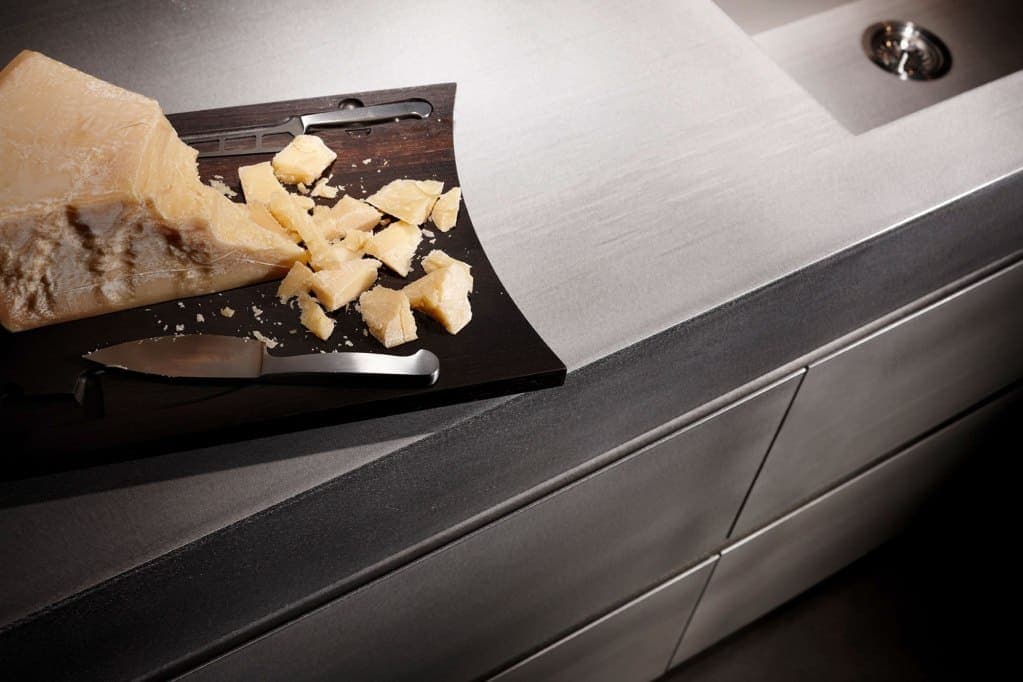 When you think of cabinetry for your home, typically people think of rich woods, bold colors, and unique textures. Metal is often reserved for handles and hinges with the focus on all metals matching. We challenge this notion!
At eggersmann, nearly every cabinet can incorporate the very special element of metal that create strength, function, and beauty. Handles, hinges, shelf holders, hanging brackets, handles, and nearly all casework hardware elements incorporate steel and aluminum. Even the cabinet finish can be of a variety of our unique metal finishes.
Mixing metals is nothing to be afraid of, in fact it should be explored and celebrated. eggersmann goes beyond the basics and integrates aluminum and steel into the esthetics and style of our cabinetry. We offer a wide range of steel decors, special effect lacquer, and real metal cabinet fronts for decor, display, and storage solutions for every room. Let's take a deep dive into these options.
Ore Décor
If your heart desires the warm, grounded effect of dark steel or burnished bronze, but your application needs the durability of décor laminate, we have the range for you. The Sydney range metal décors are available in all sizes and can be run vertically or laterally to simulate the look and smooth feel of burnished and aged steel and bronze.  This is ideal for areas with children, pets, and high traffic zones such as a utility room, powder room, or mud room.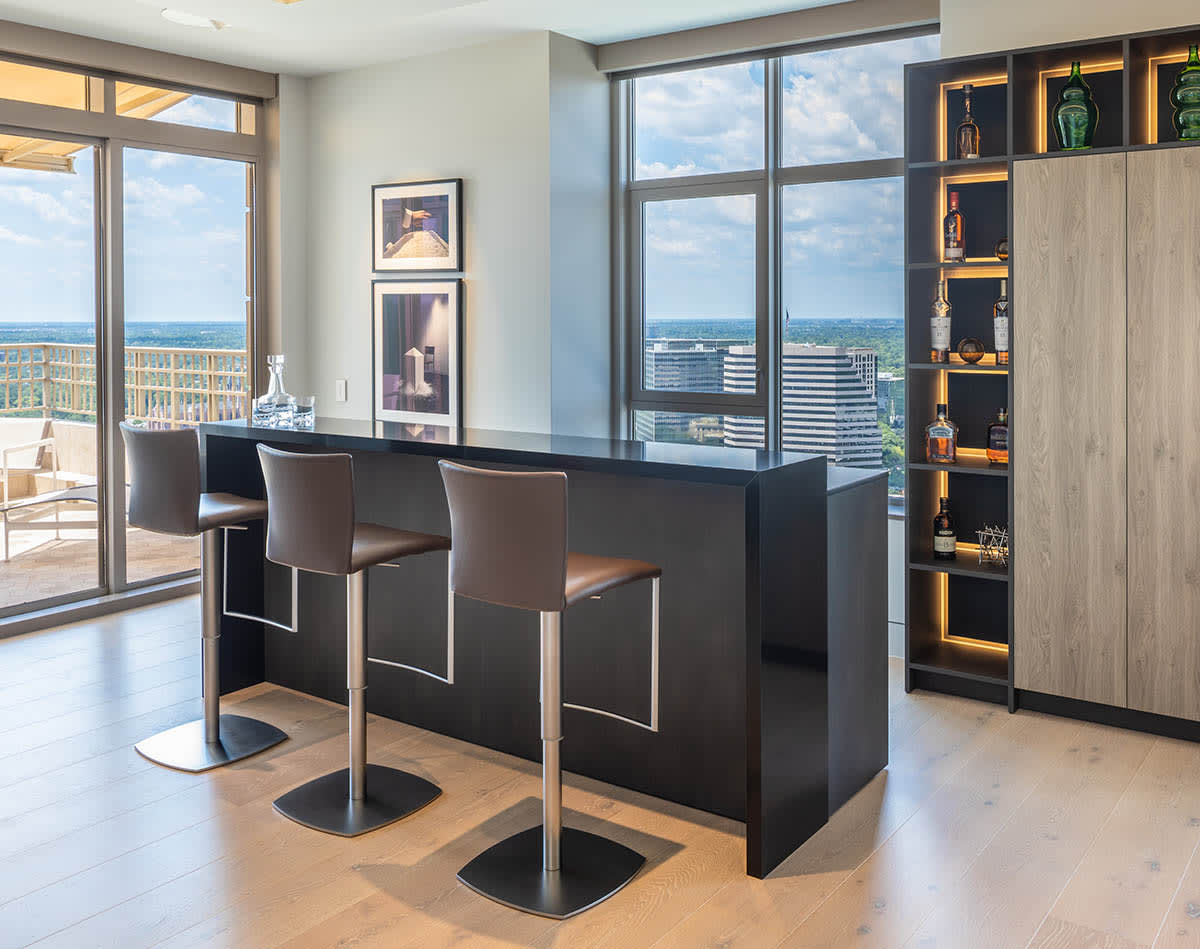 Thrilled to be Gilded
Gilding is a process of applying metal or liquid metal to coat a surface and has been around since the 1800s. This unique process shows off the luxurious properties of gold, silver, and other metallic finishes. The Ventura series perfectly captures this Old World technique using technological processes and handmade patterns. This series includes steel, silver, copper, bronze, and brass in 2 varieties. Ventura is an excellent accent for any kitchen or living space or perfect for a sideboard or console.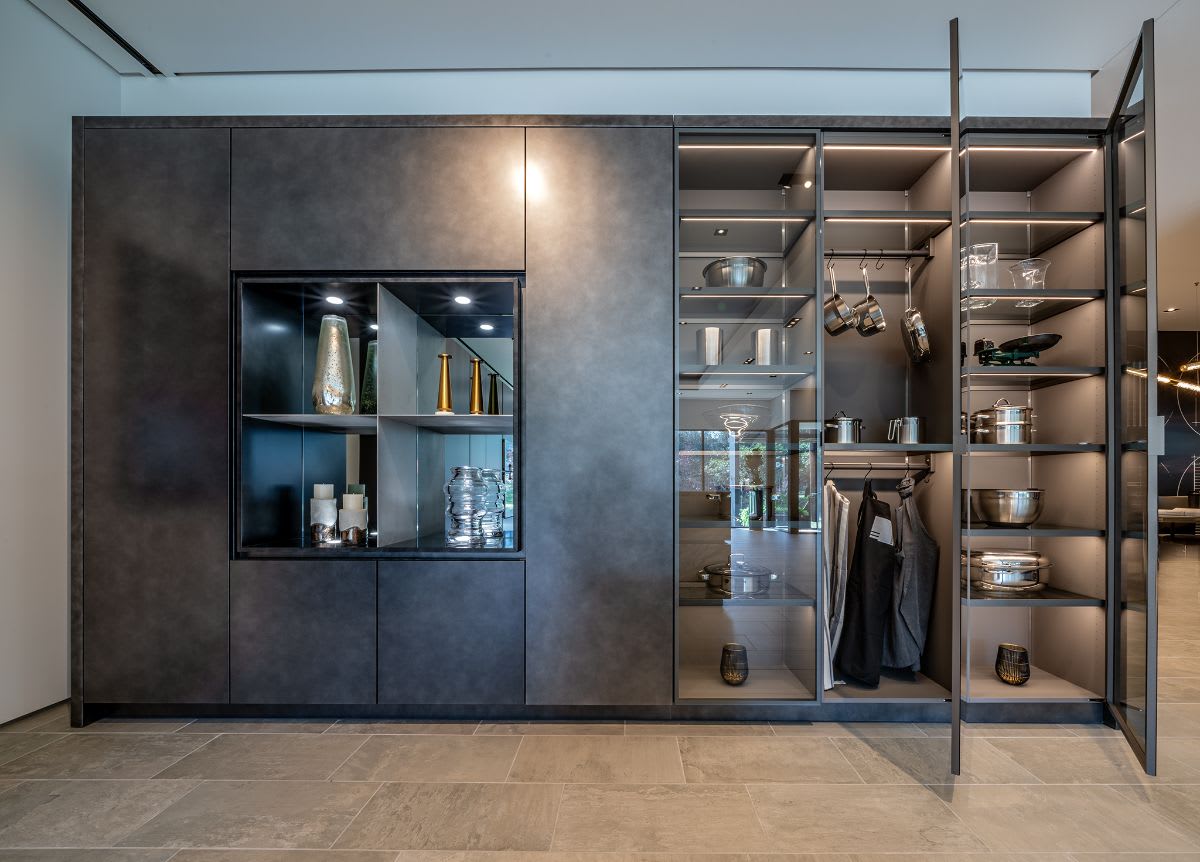 Maximum Aluminum
Atomic symbol Al is "lucky" number 13 on the periodic table of elements (science class flashback!). But Aluminum is truly number one in our book. It's one of the most prevalent metals on earth and is extremely lightweight, corrosion resistant, and incredibly durable. Because of its flexibility, eggersmann has many varieties of aluminum products including our drawer systems.
Torino
The Torino range is an all-aluminum door applied to a wood core. This cool-to-the-touch door series is innovative, sleek, and futuristic. Beveled edges and mitered corners give softness to the rigidity of true aluminum. Torino is available in natural anodized clear, light bronze, dark bronze, and grey colorations to fit any color palette.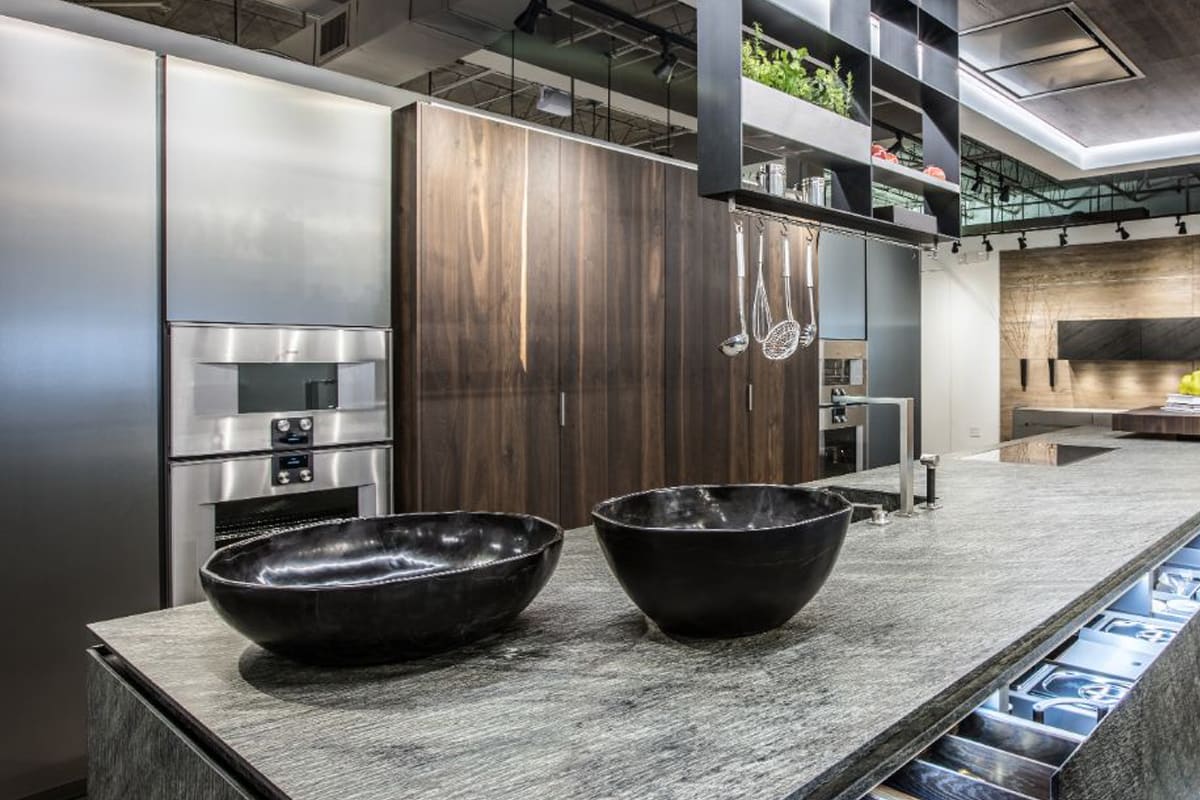 Aluminum Frames
Due to its incredible strength and rigidity, aluminum can be the catalyst for many other materials and design styles. As a frame, aluminum holds together and creates an innovative harmony of colors and materials. Eggersmann offers aluminum frames in a wide range of colors including chrome, titanium, bronze, brass, and blackened steel finishes.
More for the Drawer
Eggersmann chose aluminum for its core drawer products due to its strength and resilience in a tough kitchen environment. The aluminum provides a lightweight yet very supportive load bearing drawer system that an eggersmann kitchen cannot be without. Boxtec accessories pair harmoniously with the aluminum drawer systems and complete a circle of organization.
Real Steel
We cannot forget the real McCoy.  Stainless steel in all its glory has remained a staple in the cabinetry world. Nothing says professional chef like a stainless steel worktop or cabinet front.  Lucky for stainless fan, Gordon Ramsey, eggersmann offers polished, brushed, and concentric stainless options for the pro that wants to make a statement. Stainless steel is hermetic and a perfect surface for preparation.
Bold and Brassy
Advanced techniques in metallurgy and manufacturing have brought the ancient art of alloys and crafting deep into the heart of your home. Eggersmann's Unique cabinetry collection offers Silvertouch hot-rolled steel finishes for all cabinetry and surface solutions. Hot-rolled steel is 6mm or 8mm thick and structurally stable and strong. Another impervious surface with easy to clean properties and its stainless properties ensure an etch- and rust-free surface for years to come.
In the same Alloy range, we offer true waxed Brass with a brushed finish. Brass is an inherently anti-bacterial and anti-microbial surface which can aid you in keeping a germ-free home.  Our brushed brass is 3mm thick and is an alloy formed of Copper and Zinc melded together to supply a beautiful luster and reflective surface. Brass will change over time and patina and this should be an expected occurrence. Eggersmann offers a brass cream to polish your surface keeping it shiny and bright. Real Brass is available for cabinetry fronts and select counter areas.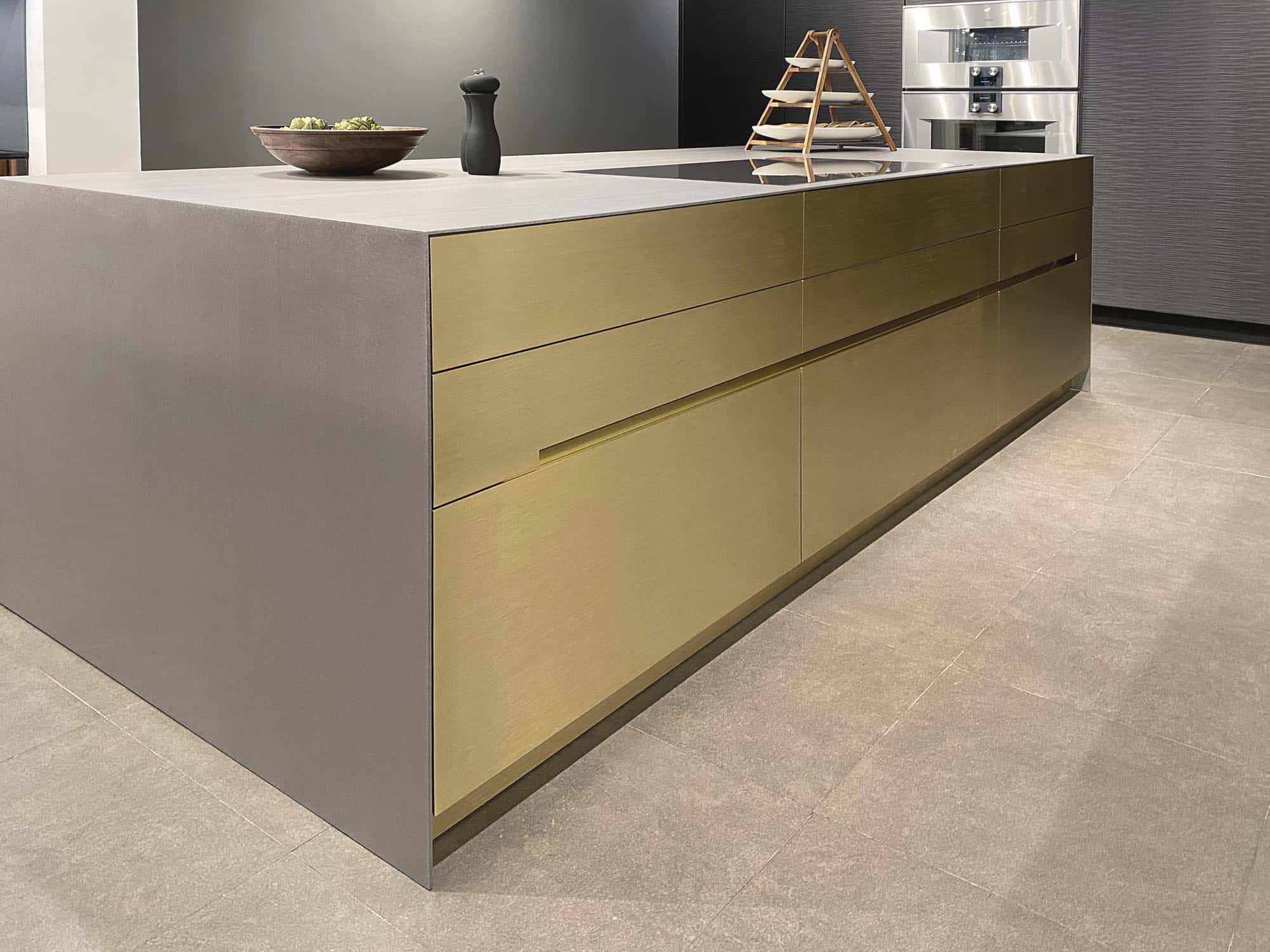 Chain Reaction
Nothing compares to eggersmann's exclusive Interlink glass panel fronts. The reaction is always a double- or triple-take when this metallic chain-link embedded in glass is encountered in our finish selections. Offered in bronze and platinum colors, the woven metal chains float between layers of glass. This eye-catching finish looks great on our work's turnstile storage solutions, but can be applied on any eggersmann cabinet front. The composite panel's gradient effect adds interest and shimmer.
Learn More About eggersmann
Be the first to know about our latest finishes and innovations. Or meet with a designer to see how you can use our metallic styles in your home. Call or visit the closest eggersmann german kitchen showroom or send us a message below.