When this West Hollywood homeowner visited the eggersmann LA showroom, she explained that her vision of wanting a feeling of more space and reducing clutter. A bigger feel with a brighter and more modern aesthetic.
The old cabinets that the homeowner had inherited were white high gloss offering little personality in the space. Plus, the existing cabinetry had not been well-planned so there was a lot of unused space.
The new kitchen had to tie in with the existing fireplace and built-ins in the open plan great room.
The palette is both natural and very modern with a dark steel melamine cabinet finish in the cabinetry and slightly lighter bronze anodized aluminum on the island juxtapose perfectly with the white countertop and light wide-planked floors.
Every millimeter of space was utilized to give the homeowner as much storage to keep clutter at bay.
favorite special storage features
Designer James and the homeowner explored the needs to make the kitchen both suit her preferred aesthetic and contain all the kitchen essentials plus some luxuries.
These are just a few of the specialized designs incorporated into this personalized kitchen:
Toe-kick drawers maximize storage space which was a big concern for our client given the open floor plan.
In the tall wall cabinets on the right, Sub Zero refrigeration is integrated giving the kitchen a bigger feel with a homogeneous finish across the back wall.
Next to the fridge is a cabinet that features 3 shelves at the top with a swing-up shelf for the stand mixer beneath a stone countertop. A baker's paradise!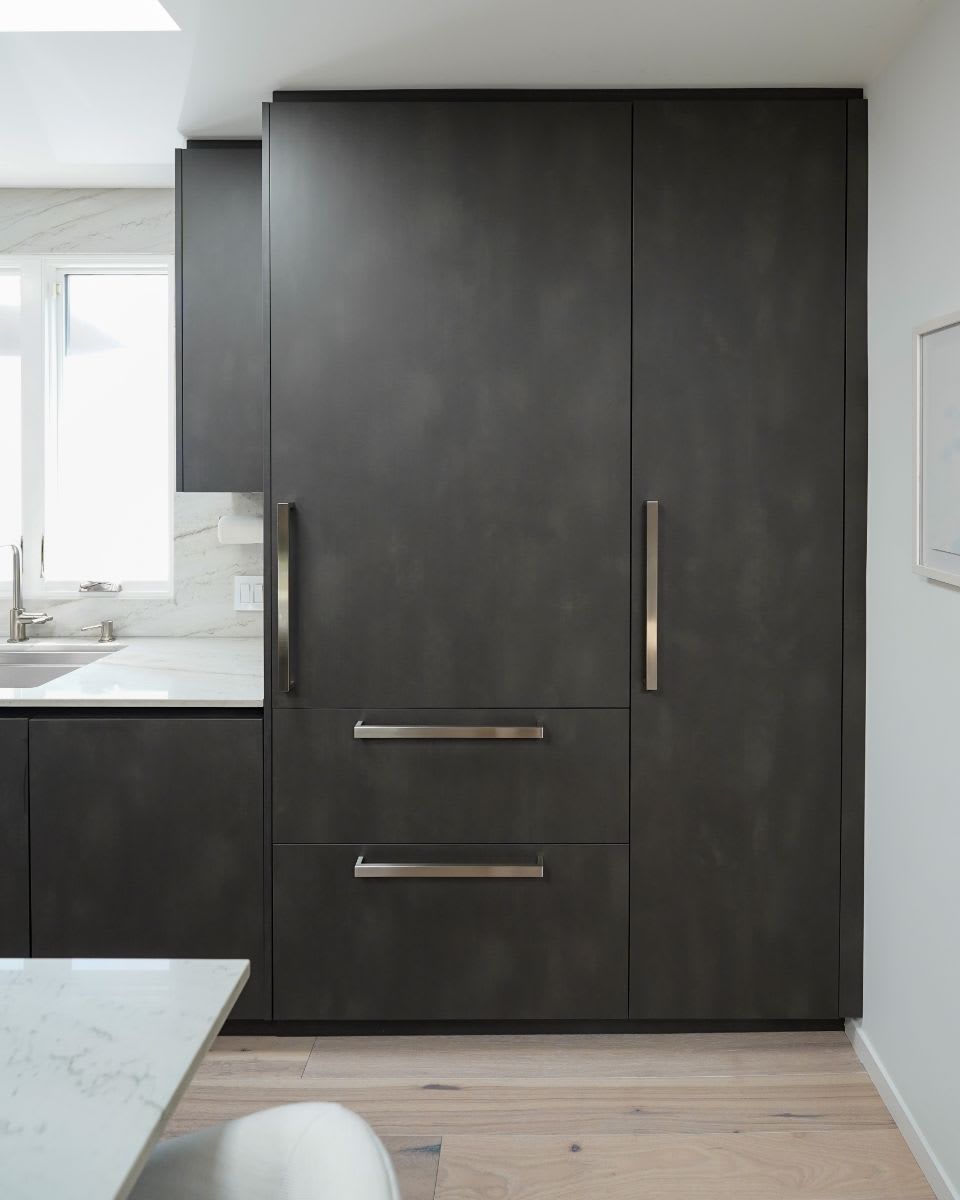 what our client had to say
I moved into a house with a very un-functional kitchen. The person I bought the house from installed Ikea cabinets and everywhere there was not a cabinet to fit the space, it was just sealed off.
After going to many kitchen companies I walked into eggersmann and was greeted by James McCabe. Instantly he understood what I was looking for and was equally driven by function and aesthetics which is very hard to find.
Upon hiring James and eggersman, everything went so smoothly that I kept waiting for something to go wrong and it never did. Having been through several remodels I never thought it was possible. My contractor, who I trust with my life, said that he has never seen such detailed, thought-out plans. And James was able to answer any question that came up and did so within a half hour.
James went above and beyond and I could not have had a better experience. We were on time and on budget. I am absolutely thrilled with my kitchen and the quality is more than I could have hoped for. I also wanted to add that my kitchen was demolished right before COVID quarantine, James and his team worked masked and sanitized to make sure I was without a kitchen for as small of a time period as possible, which I greatly appreciated.
WALL CABINETS: Sydney #2303 Metal Décor Dark Steel
ISLAND CABINETRY: Torino #8909 Light Bronze Anodized Aluminum
COUNTERTOP/BACKSPLASH: Mont Blanc quartzite, hand-selected
Subzero refrigeration
Wolf appliances
learn more about eggersmann solutions
"*" indicates required fields