Houston's Upper Kirby community is surrounded by iconic Houston landmarks and institutions such as Rice University, Houston Arboretum, and the internationally popular Galleria mall. The hip area offers diverse dining and relaxing experiences with family and friends from dinner in neighborhood bistros and grills to live shows in pubs and theaters to indie art galleries to antiques shops to a weekly farmers' market.
The team at the Houston eggersmann showroom were thrilled to work with a homeowner on a contemporary kitchen with a classic touch for a new construction home on Ferndale. The homeowners worked with our eggersmann designers to select each element considering advice from the architect and builder.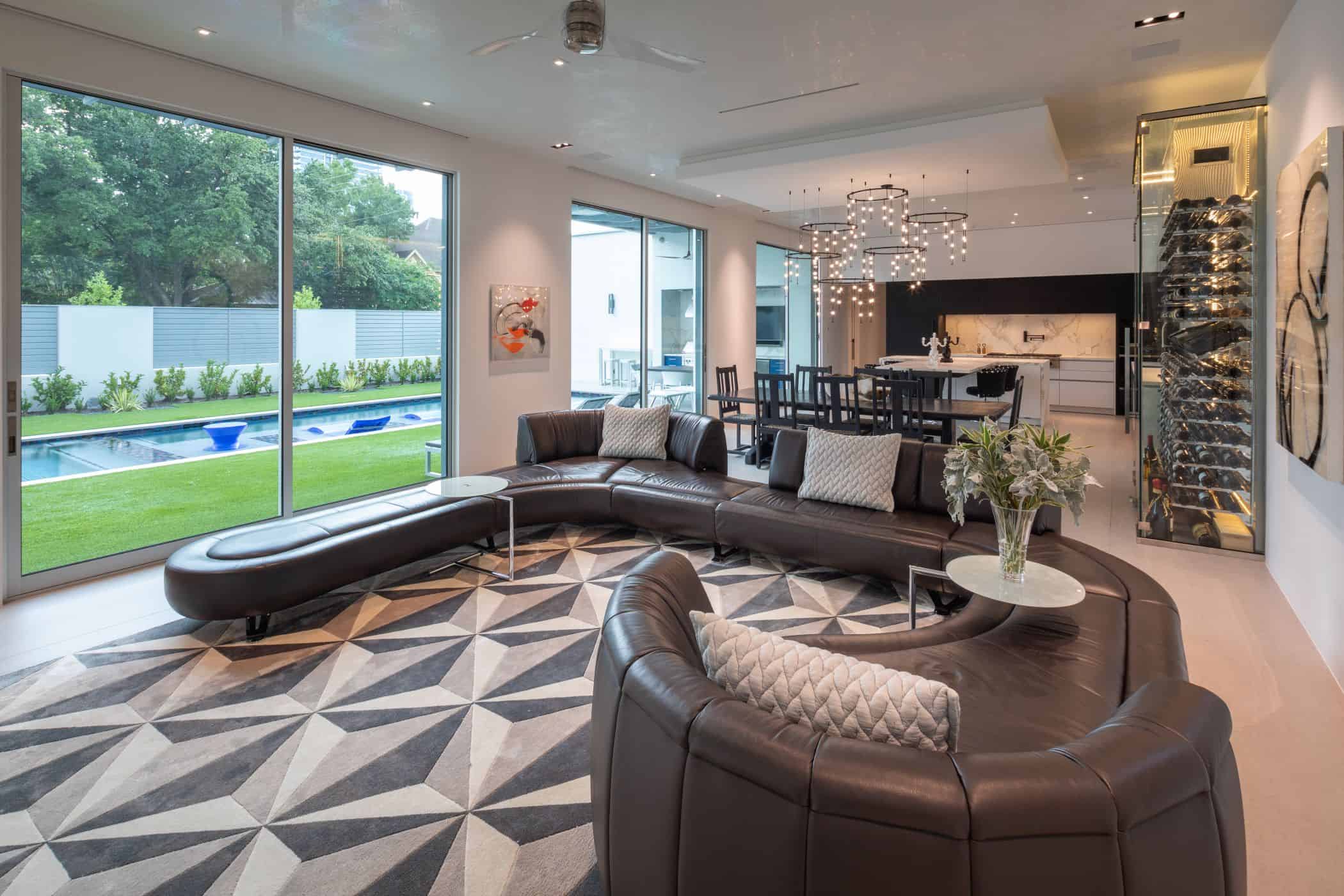 The homeowner wanted a black and white kitchen with very contemporary aesthetics but keeping a classic design to stand the test of time.
Houston eggersmann designer, Andrea Villamarin, introduced to the homeowners to our black embossed and black smoke glass. It was love at first sight.
Out of all the designs and finishes the homeowners had seen in local competitors' showrooms, they declared eggersmann the clear winner as Andrea's designs were their favorites. She really understood the aesthetic they were going for.
Of course, we were excited to get started and inspired by the black and white motif as it is always so dynamic. We knew it would be a fun project.
The Black and White Kitchen
In the kitchen, we used our beautiful black embossed finish for the tall cabinetry and wall units over the range top. For the delightful juxtaposition of all that dark reflectiveness, Polygloss diamond white for all base cabinets and island.
Over by the window, the upper cabinets were clad in black smoke glass (the homeowner's favorite eggersmann finish). Interior lights were added inside the handcrafted cabinetry to display glassware.
Wolf ovens in black glass were chosen to coordinate with the display wall units as well as Dekton countertops and backsplash.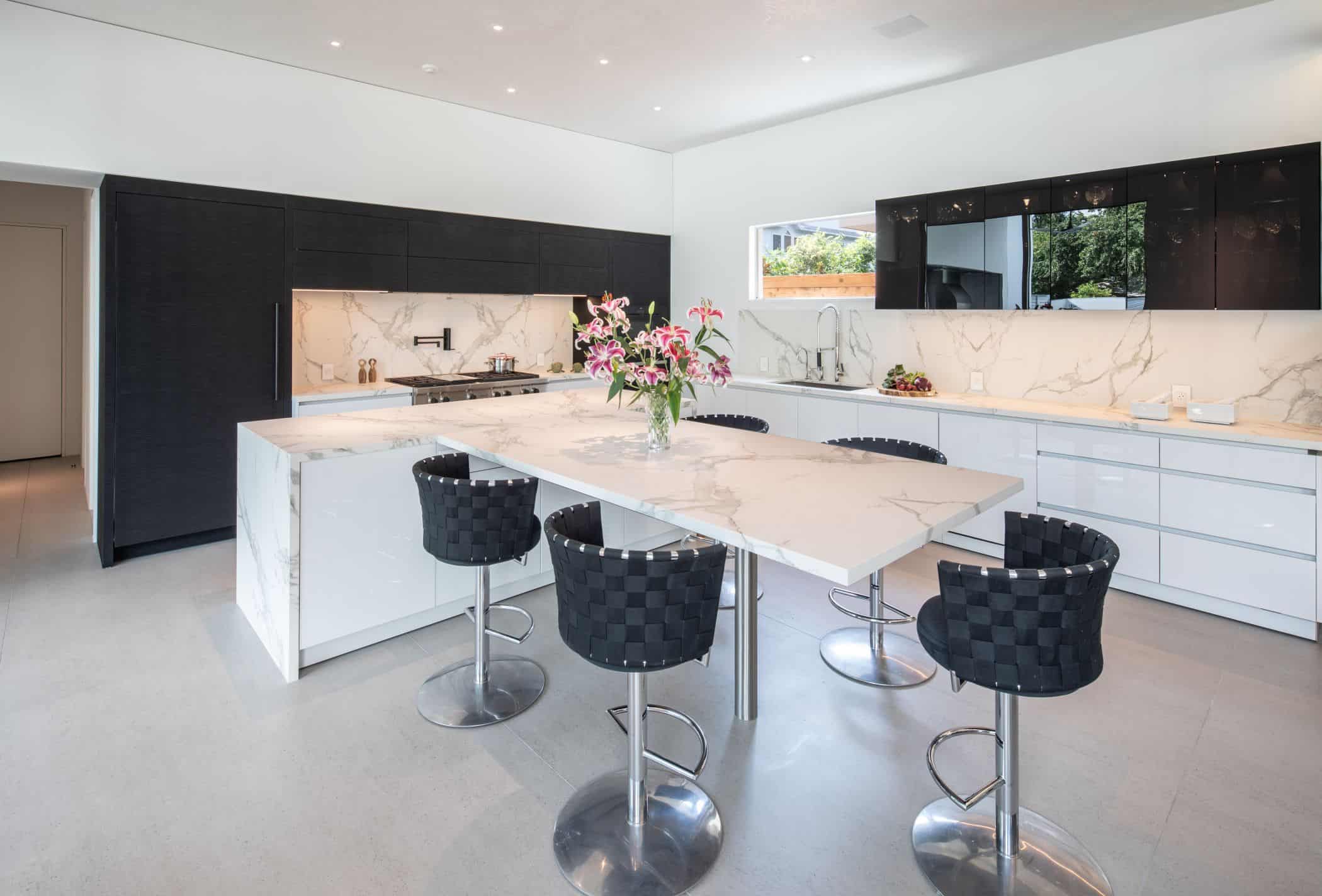 The Baths
The homeowner was really keen on "something out of the ordinary" and Andrea was at the ready with so many choices from eggersmann's finishes and custom solutions.
First Floor Master Bath
For the master bath on the first floor, a white wave finish was selected for the ultra-long his and her vanities on opposing walls.
The clean, fresh glossy finish combined perfectly with the Dekton material selected for the flooring, walls, and countertops.
Second Floor Master Bath
The master bath on the second floor boasts 2 floating vanities crafted with our gorgeous Acrylux Kubanit material.
The Dekton countertop and flooring make for an amazing combination.
Pool Bath
For the pool bath, the homeowners wanted a splash of blue. But they were not sure what shade of blue until they saw their neighbor's Miami blue Porsche. Ha ha ha ha! Problem solved. We brought their Porsche-colored dreams to reality with our color-matching technology and vroom! Their pool bath matches their neighbor's Porsche.
get more projects and news about eggersmann in your inbox
"*" indicates required fields