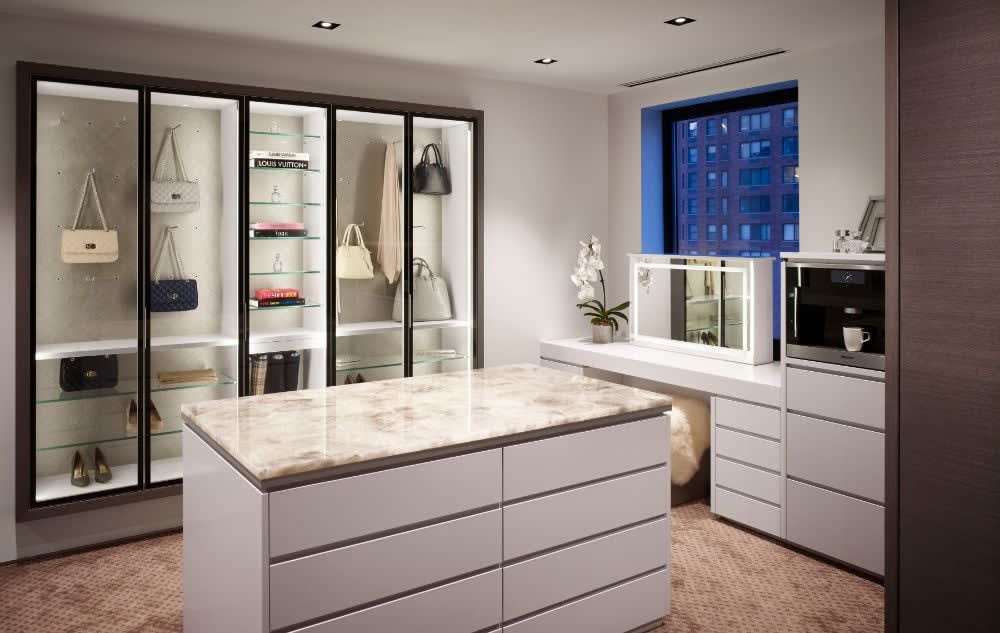 what is LED lighting?
LED stands for light emitting diode and is a revolutionary technological advancement made possible by the ever-decreasing size of semiconductors.  Some of the earliest LED use was in the 1960s with the popularity of low intensity infrared lights, which became popular in remote controls for televisions and other electronics.
Fast forward to the mid 1990s when LEDs became available in super-high-intensity brightness and began to take hold in the mainstream replacing incandescent light bulbs. From the 1990s to current day, the cost of high intensity LEDs of all shapes and sizes has exponentially decreased while the quality and design flexibility have dramatically increased. This makes use of LED in residential, commercial, and industrial applications virtually limitless.
lighting in furniture
Most think of using LED in indoor and outdoor lighting, but furniture design has also benefited from the use of LED technology. LEDs output very little heat and offer incredible energy efficiency making them ideal for utilizing in furniture design.
Previously the industry relied on fluorescent, incandescent, or halogen lighting to backlight, spotlight, or accent furniture components such as inside shelves and cabinets. These predecessors were bulky, hot to the touch with the heat being unsafe in some applications, and energy hogs. LED lighting also enables a continuous light effect, whereas the previous design possibilities created shadows and gaps where light could not fill.
types of LED
Because of its flexibility and unlimited color possibilities, the varieties of LED lighting are nearly endless.  We will discuss a few of the most common variations and configurations.
LED can be prearranged into a decorative fixture or it can be mounted and fitted on a reel with LED tape light. The most popular method for furniture is LED-light tape as it can bend, flex, and wrap around corners and edges. Traditionally, LED tape and bulbs came in fixed-color temperatures measured using the Kelvin scale. Warm whites are in the 2200k to 3000k range, neutral whites are from 3100k to 4000k, and cooler, bluer daylight colors range from 4100k to 5000k.  The change in color temperature can affect the visual appearance of your home and should be consistent with the surrounding overhead lighting.
Today, technology called Emotion, also known as tunable white LED, enables changing the light temperature between warm, neutral, and cool, basically like the dimming feature of lighting that goes from low to high. This new ability to adjust the light temperature brings a whole new dimension to lighting control.

integration
When technology adds value to our lives and is intuitive, it is a gift that makes life easier. LED lighting controllers do just that. Current systems enable integration into home automation products, voice-activated assistants such as Google Home or Alexa, as well as touch sensors or remotes that give immediate tactile management of the lighting systems.  Not only can you manipulate the lighting temperature but also adjust dimming as well controlling each fixture independently or in unison.
led lighting in the kitchen
One of the most important design aspects of any kitchen is proper visual of the tools and ingredients while cooking, preparing, and cleaning.  Kitchen spaces require appropriate lighting intensity, color range, and placement.  It is suggested to use or set your tunable LED to a neutral color range in a kitchen of 3100k to 4000k for optimal viewing.
Under cabinet lighting for prepping, cooking, and cleaning tasks
Interior drawer lighting to help you grab the right tool every time (we even offer UV lighting that kills viruses and bacteria inside your kitchen drawers)
Interior cabinet display lighting offers excellent for ambience and showcases your favorite dishes, kitchen gadgets, or even artwork.
Overhead and accent lighting add to the drama and overall feel of the kitchen space.
led lighting in the wardrobe
Have you ever walked out of the closet wearing 1 black sock and 1 blue?  That should never happen if you have the appropriate lighting for a wardrobe. Light direction and placement is critical in a wardrobe. And cooler daylight colors ranging between 4000k-5000k help you see colors clearly and vividly.
Angled and directed above hanging clothing areas.
Vertically illuminating horizontal shelves for shoes and folded items
Interior lighting for jewelry and accessories
For a decorative touch, illuminate display cases and glass shelving and create an indirect glow to add a touch of glamour to your space
Dramatic nightlight when walk-in closet lights are off.
led lighting in the media & display
A media space is one of the top frequently used areas of your home, aside from the kitchen. A focus on optimal screen viewing and listening experiences are paramount. Lighting in this area should be carefully designed to not reflect on the screen causing glare. Any temperature lighting here will do if its homogenous with the overhead lighting. We recommend a dimming option on the control system for various moods and scenes.
Task lighting in the beverage center and bar area
Interior lighting for ease of adjustment and control of electronics
Display areas with indirect backlit areas or spot lit depending on your collection and focus
Task area at your convenient hidden desk or point-of-power connection
Illuminate hidden storage for easy location of your favorite game, book, or other item.
know what to ask
What temperature light do you want or is tunable lighting an option?
What control options do you want?
What is the CRI (color render index)? This is critically important and you should expect a value >80, if possible >90, to show the truest color of the object or objects being viewed.
What room or application is this being used for? That will help determine if you want a tape light solution or a decorative fixture.
the future
The future of LED lighting is bright. The newest technologies coming to the market include adjustable LEDs and expanded options with RGB (colored LEDs) that will allow not only control of dimming, color, and temperature but also design effects.  The new addressable systems are already in use in many commercial, industrial, and artistic applications and can allow the user to interact and program the design intent.  LEDs will continue to get smaller, more efficient, longer lasting, and more cost effective.
The future is here at eggersmann where our designers utilize LED in very useful and innovative ways. Whether functional or dramatic, our team can help you select just the right lighting in your space and inside your furniture to create the exact look you want and functionality you need.