A Day of Gratitude Celebration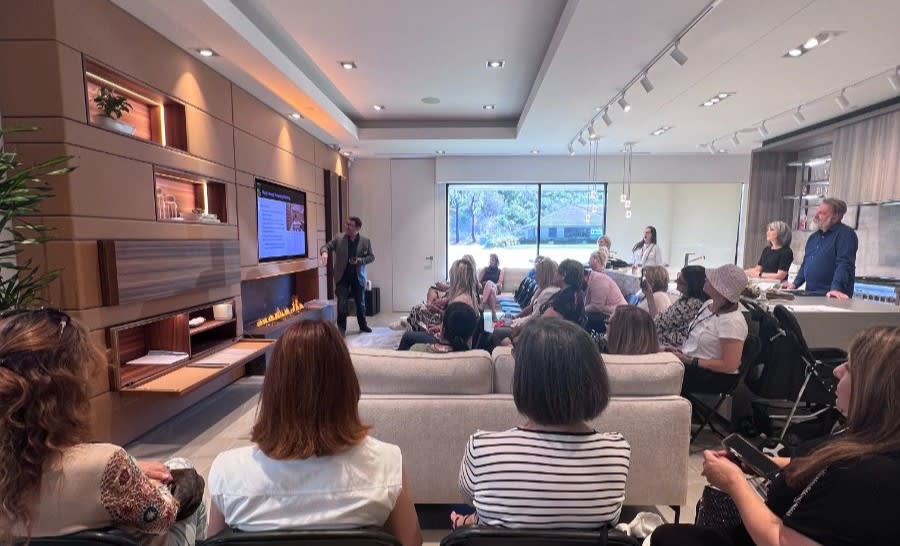 On October 5th, eggersmann Laguna Niguel hosted a captivating Continuing Education Unit (CEU) event at their showroom which is eggersmann's newest location as part of the Laguna Design Center's Day of Gratitude.
The special day is full of opportunities to learn, laugh, and lunch. The eggersmann team was thrilled to join in offering designers fun and CEU credit.
Showroom manager, John Bichan; technical designer, Derek Cornett; and designer, Kelly Lafosse, welcomed the CEU attendees and visiting eggersmann USA leadership, Dana McManus, Marketing Director, and Evan Soltoff, VP Operations.
Attendees gathered in our home living space for a thought-provoking exploration of the Art of Veneer. Evan Soltoff presented the fascinating journey and design intricacies of engineered wood veneers.
From the tombs of Egyptian pharaohs more than 5000 years ago until today with the marriage of craftsmanship and state-of-the-art computer-aided technology, Evan share the history and evolution of this ever-popular technique. His discussion of veneer terminology was enlightening and highlighted just how incredibly complex veneer matching is. It was also useful for participants to more confidently design with and order veneers. Evan shared an example of the end product in a beautifully renovated home in Houston's Astoria high rise.
Work with eggersmann
Interested in future CEUs or visiting a showroom? Let us know!
"*" indicates required fields