2023 Changes: Electric Outlets in Kitchen Islands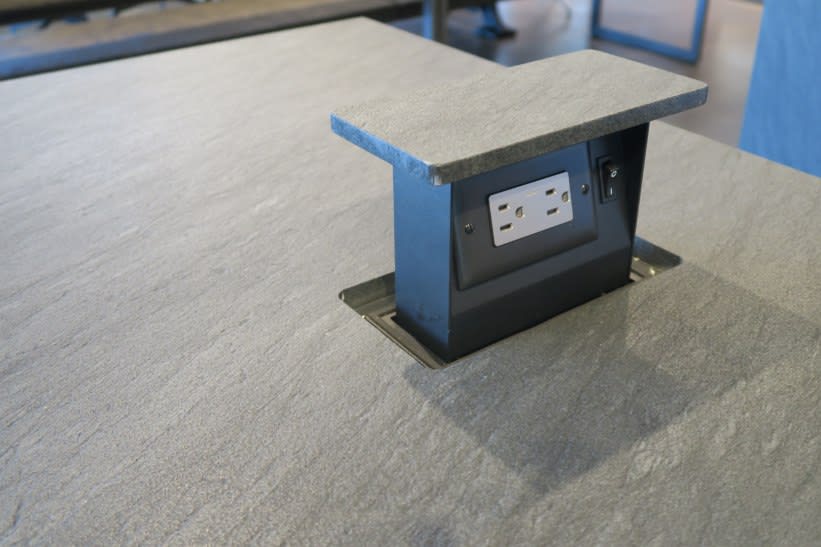 The National Fire Protection Association (NFPA) Standards Council issues the 2023 National Electrical Code® (NEC®) effective date September 1, 2022. This new version of the electrical codes had many improvements to keep homes safer, but one that significantly impacted kitchen designs is the policy towards outlets in kitchen islands. Below we share the basics of these changes but, of course, designers and construction professional should always verify this information with the local authority having jurisdiction (AHJ).
The functional change that may surprise some of our clients is that outlets may no longer be installed in the side of an island below countertop level. The NEC 2020 requirements permitted these types of outlet installations, but reports of accidents involving injury when appliance and other device cords were pulled by children, pets, or inadvertent catching on a passing object indicated a need for change.
The regulations apply to typical kitchen outlets (125v, 15/20 amp) installed in an island in a residential dwelling.
New 2023 Kitchen Island Outlet Regulations
The main differences between the 2020 version and the 2023 version of the NEC are:
Outlets Below Countertop Level
The NEC 2020 permitted outlet installation on the side of the cabinetry below the counter level.
The NEC 2023 does not allow installation of an outlet receptacle below the countertop.
This very common side installation of outlets led to children, pets, and other accidental instances of appliances and other corded devices being pulled off counters causing injury.
Required Electric Installation for Islands
The NEC 2020 required at least one outlet receptacle for the first 9 feet and another for each 18 feet after that. Our clients had no option to not install an outlet in their island.
The new NEC 2023 permits omitting a receptacle which gives our clients more flexibility. However, provisions must be made, such as a junction box attached to the inside back of a cabinet, so a receptacle outlet could be installed in the future. This is a useful requirement as needs may change or a future owner may want an island outlet. Having the electrical supply wire in the island ensures an outlet may be added without significant renovation.
The new regulations have been in place a year now so even if your friend did manage to pass inspection with a side-installed outlet below counter level in an island, it is increasingly unlikely that it will pass in the future. It has become clear it is not a safe way to electrify cabinetry. Hence, eggersmann designers only design per the NEC 2023 with outlets above the counter level, in pop-up outlets on the countertop, and/or with no outlet but providing electrical supply terminating in a junction box.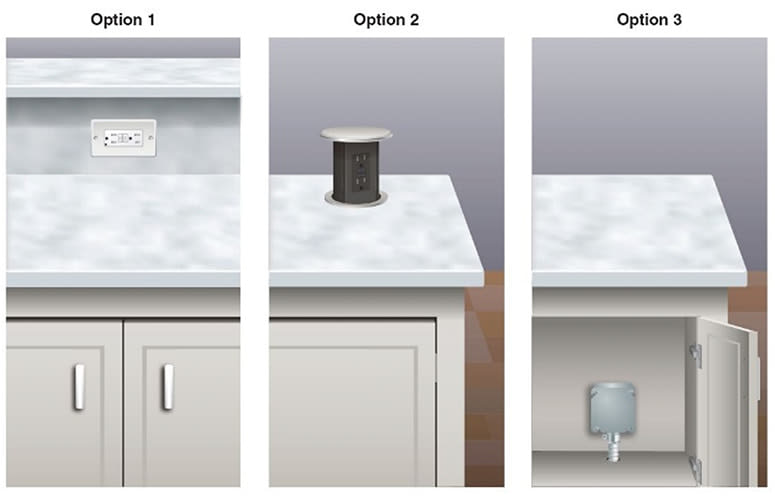 Learn More About NEC 2023
The NFPA offers free registration which will give you access to the NEC 2023 app.
It is the actual regulation with great details including comparisons of the differences between NEC 2020 and 2023. It is an excellent tool for the trades to learn more about current regulations and for homeowners to clearly understand how these safety measures impact functionality that may no longer be permitted.
Subscribe to our YouTube Channel
Favorite Countertop Outlet Solutions
Our eggersmann designs are completely custom so we don't rule out any NEC-compliant solution. But we do have our favorites because they are reliable, attractive, and proven safe. See pictures of the S-Box, Lew Electric Popup, and Hubbell Electric Popup outlets.
Favorite Island Outlets Above Countertop
Installing your kitchen island outlet above the countertop is a more traditional, but very functional approach. Your eggersmann designer has many options to design above-level outlets, such as adding a raised bar area to provide a vertical surface or including 15-square shelving that serves as a functional display and storage area for your island.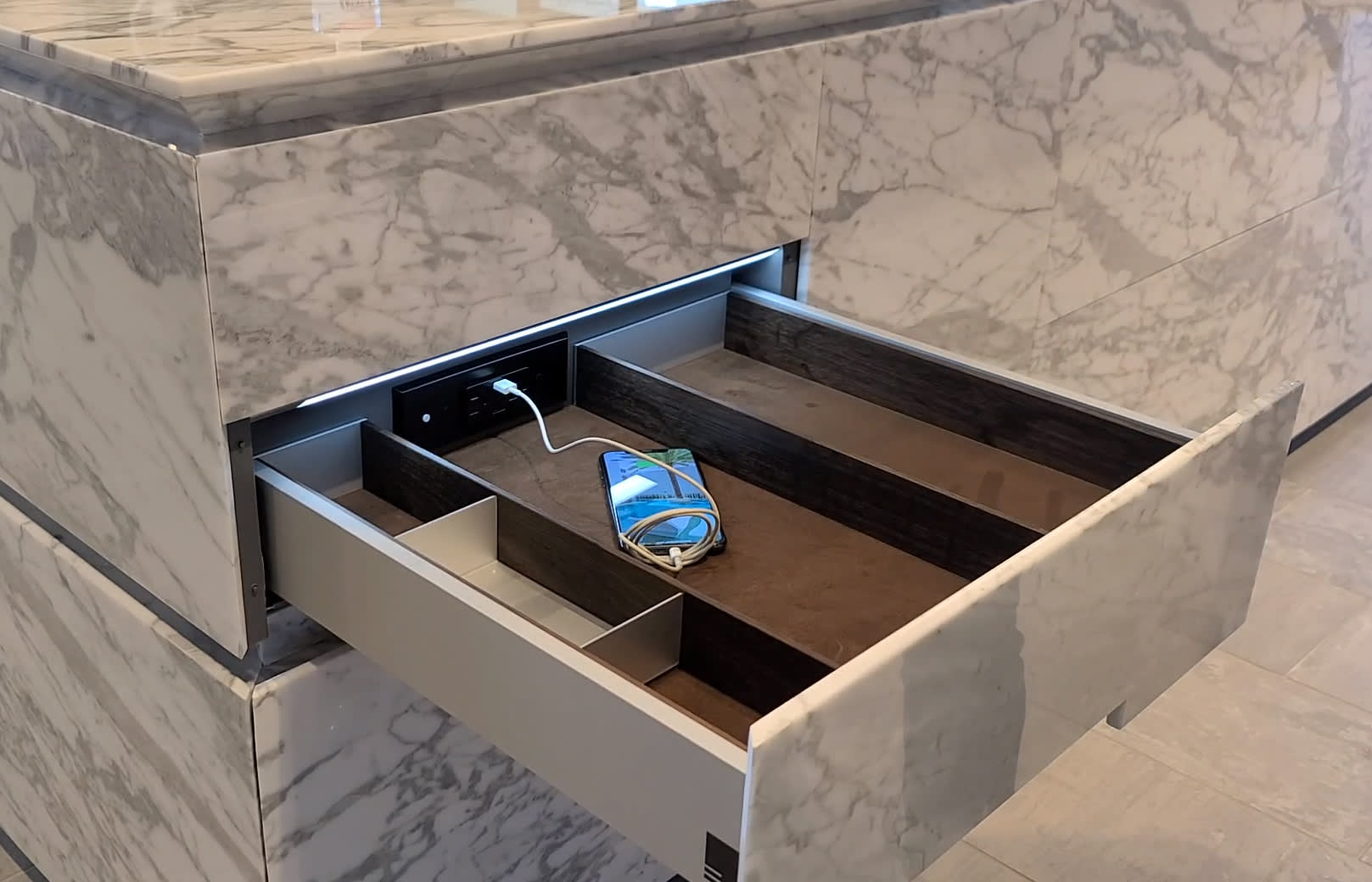 Let's Design Your Dream Island
"*" indicates required fields