eggersmann finalist in SBID International Design Award 2019
Essential Kitchen & Bath Business announced that a bespoke kitchen by eggersmann is a finalist for the SBID International Design Awards 2019.
The SBID award is one of the most esteemed interior design swards globally. The  awards salute design excellence in a wide range in interior design categories.
Winning a SBID International Design Award is challenging as the nominated projects are scrutinized during a two-tiered judging process by design industry experts in the top of their fields. This exclusive panel evaluates each candidate design for aesthetic creativity and technical content. Design-savvy enthusiasts from the general public also influence the choice of the most inspiring interior design projects.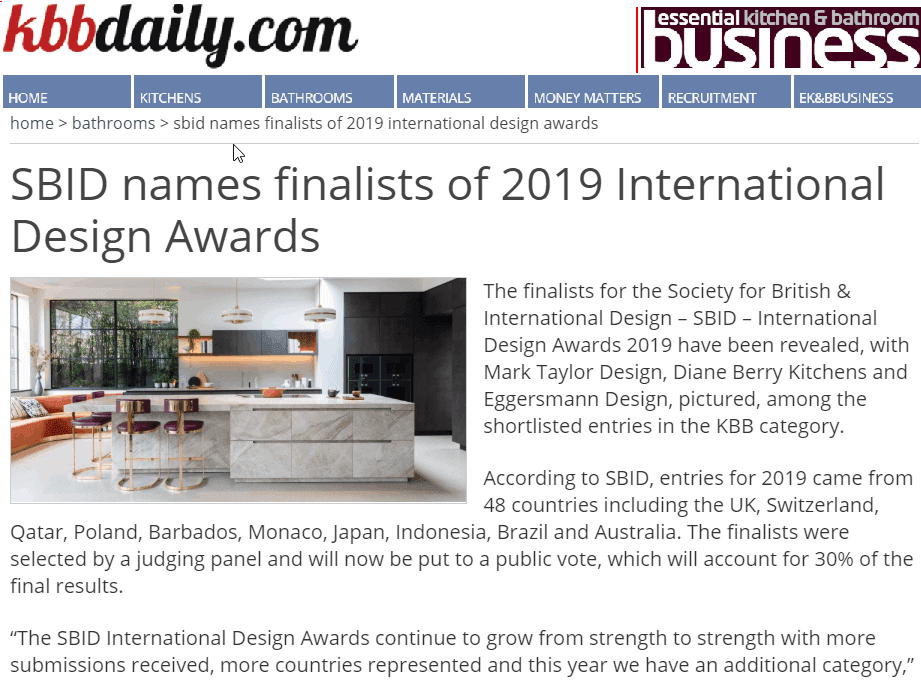 The SBID award event receives entries from across the world. Accredited with the GOLD Standard Awards Trust Mark by The Independent Awards Standards Council as exemplary.
Representatives of the nominated design firms and event sponsors will attend attend a high tea at Britain's House of Lords the week of the award event. Spirits are sure to be high after scones and jam in such a revered place, but the best is yet to come.
The SBID Awards ceremony on October 25, 2019, will take place in London's iconic Ballroom at Grosvenor House hotel in Mayfair. The the veritable Who's Who of the interior design world will dine on a posh luncheon in anticipation of the announcement of the 15 categories of winners for the SBID Awards 2019.
Each winner will receive a one-of-a-kind SBID International Design Award 2019 trophy, crafted by Czech glass specialist, Sans Souci Glass Deco. To commemorate this global celebration of design, each finalist project will be featured in the SBID Global Interior Design 2019 coffee table book which is gifted to each award ceremony attendee.
Read the Essential Kitchen & Bath Business article about eggersmann's nomination for the 2019 SBID in the KBB category.
Highlights of Nominated eggersmann Kitchen Project