Kristi and Dean Jernigan envisioned a comfortable, cozy, yet modern home for their extended family to gather. They sought to capture the experience of living on the water in Miami, while drawing inspiration from the incredible range of interiors they experienced living in London for 11 years.
The art-inspired ultra-modern home boasts:
Approximately 7,400 square feet, with 4 bedrooms and 4.5 baths
No hallways, other than a short vestibule leading into the master bedroom
A floating indoor staircase made from glass, bronze and wood
Outdoor putting green and custom-designed his and her master closets, at Dean's request
A helical outdoor staircase, a signature element of the architect.
The finished home is filled with art. Kristi started the public art commission in Memphis, so she is immersed in the art world (Kristi and her architect, Darrell, worked together on a number of public art projects in Memphis including the Public Library and the Redbirds' Baseball Stadium). As such, she wanted to their entire Miami home to function as a form of public art.
This new construction home is grand and thoroughly modern, but the homeowners' choices in finishes keeps the feeling of warmth.
The Jernigans and their architect worked with Erika Clifford at eggersmann Florida to design and implement the super modern, warm feel in their kitchen, bar area, wardrobes, and his and her walk-in closets. The cabinetry and solutions had to not only be beautiful and sleek but durable given their growing extended family of children and grandchildren.
The ask: create a modern space with a warm but minimal feel to allow the art to shine. Create plenty of highly functional and customized storage in the kitchen, bar, bedrooms, and walk-in closets.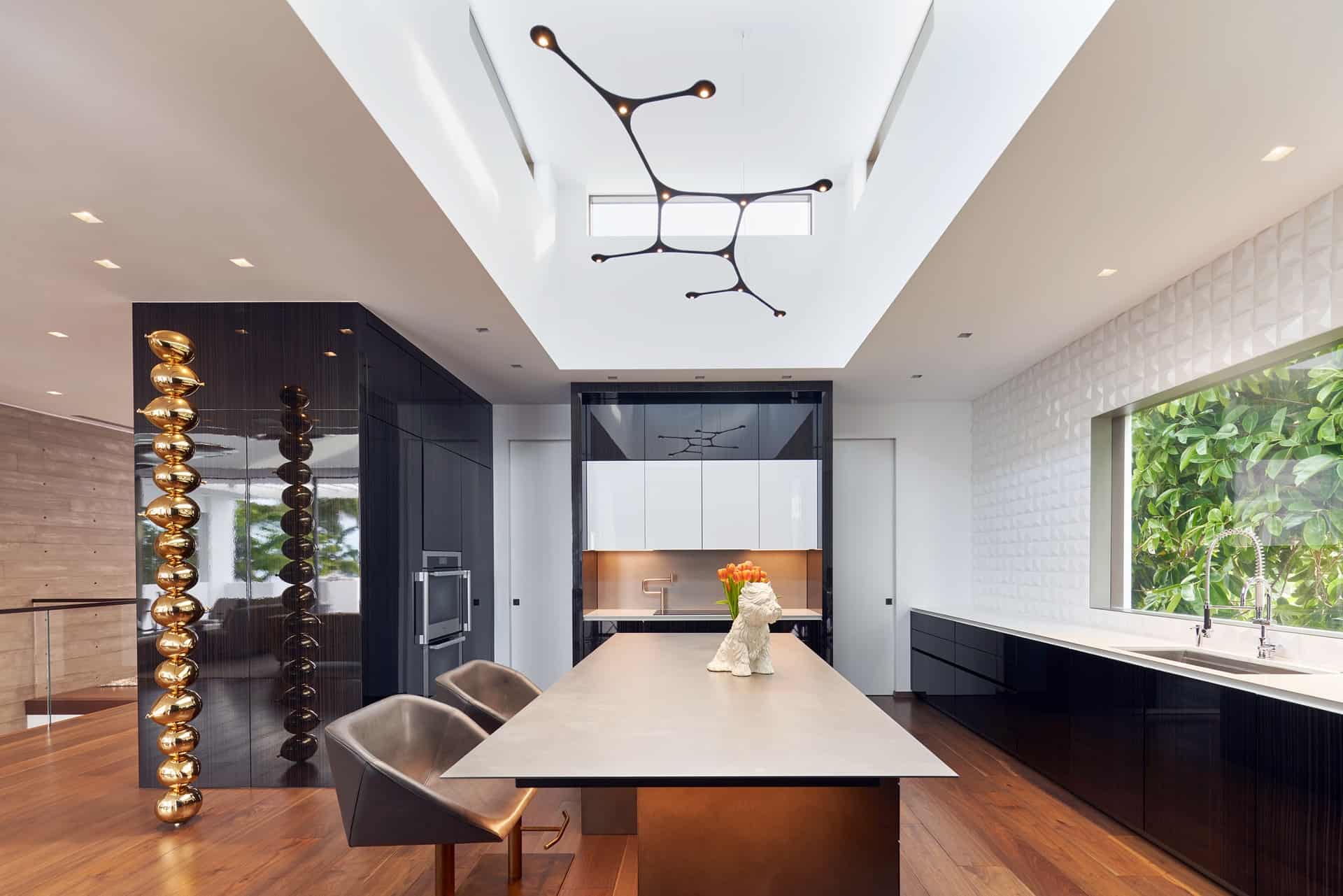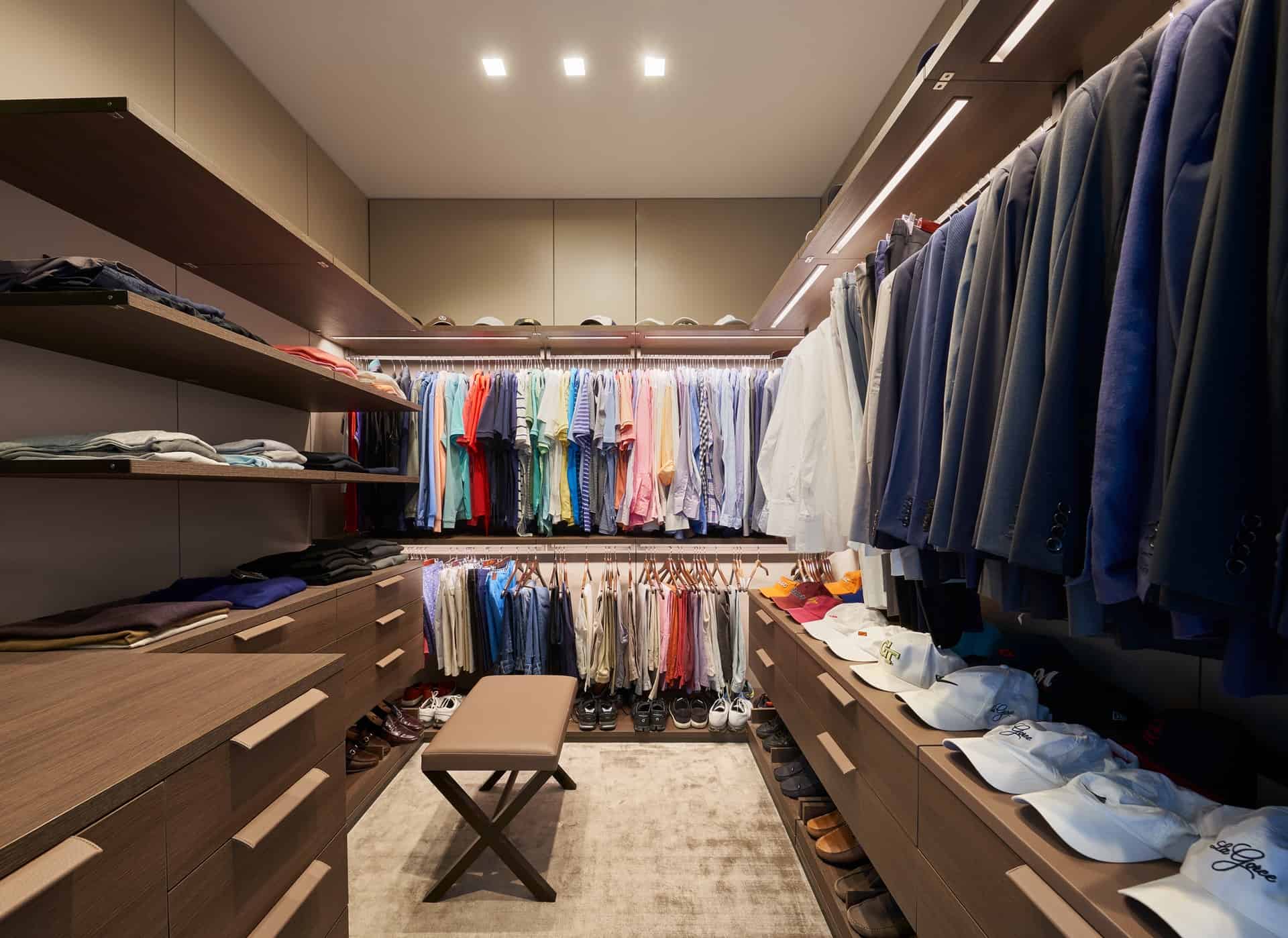 The kitchen cabinetry features Fireline High Gloss Tricolor Ebony veneer with an island in Dark Concrete. All with high-precision mitered edge details and accents of the Silvertouch hot-rolled steel countertop, backsplash, and window sill.
The bar comprises base units in a Fineline Black Embossed veneer finish and upper cabinet doors of custom tinted glass and Black Anodized Frames. The cabinet units of the bar are accented with interior LED lighting and custom glass interiors.
Closets are all completely custom to its residents.
Both girls' bedrooms have a completely integrated closet system with built-in headboards and beds transition seamlessly to their wardrobes.
Dad's closet features a cantilevered S35 design with eco leather accents throughout and custom matching bench.
Mom's closet features specialty finished doors on cabinetry with Silver melamine interiors. A custom lighted open leather mirror unit was designed for the many gowns owned by Kristi, a frequent philanthropic fundraiser attending many formal events. The luxury walk-in closet features high polished floating clothes rod and custom inner accessories for jewelry, shoes, and handbags.
The eggersmann designers, project manager, and installers enjoyed working with the Jernigans. They were such a pleasure to work with from the very beginning. They were a part of the entire selection process and collaborated with us throughout the whole project with new ideas from their travels all over the world. They got inspiration for their selections from their designer, design shows, artist, magazines and other resources. Just like their gorgeous and unique art collection, they carefully curated materials of varying finishes and textures for their kitchen, bar, and wardrobes.
Darrell Russell, AIA, ASID, principal architect behind A BOHEME Design in northwest Florida, first worked together with the Jernigans on their very modern home in Memphis. It was featured on the cover of Interiors magazine in the early '90s.