eggersmann & MLI Host Frankfurt Kitchen Panel Discussion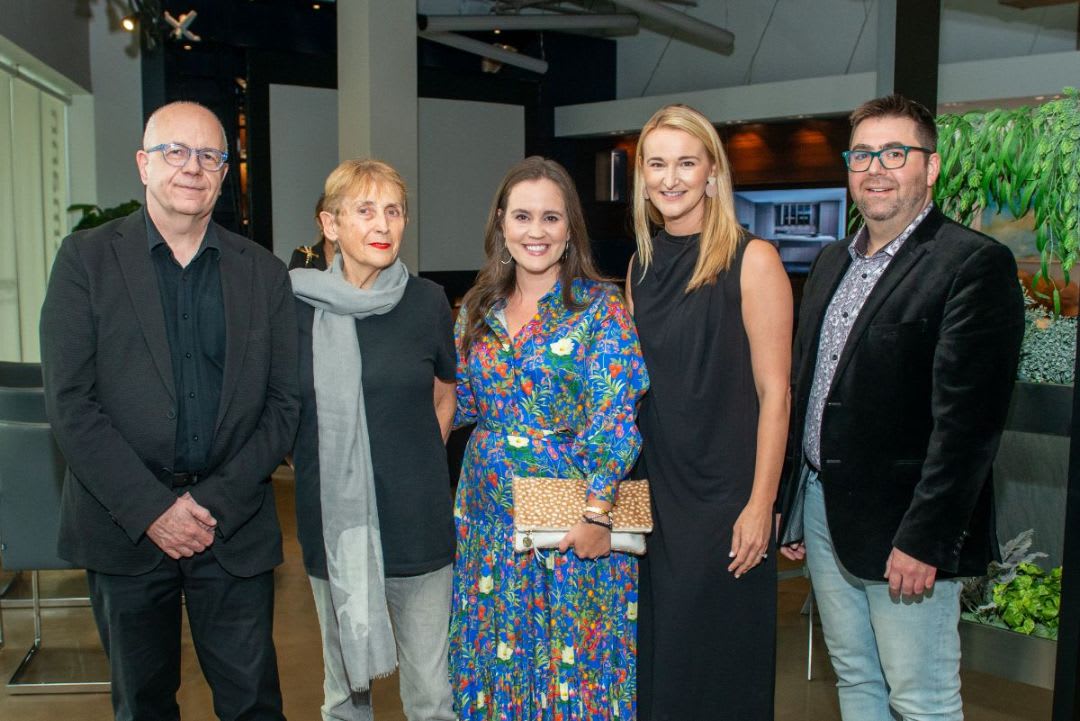 The eggersmann Houston team was excited to host this event along with sponsor, Modern Luxury Interiors Texas. Showroom manager, Evan Soltoff, saw the Goethe Institute's presentation on the Frankfurt Kitchen and its founder a while back at our Chicago showroom. After getting permission from Goethe to use the presentation, he assembled a diverse panel to add to the enjoyment and educational value of the presentation. And the presentation and panelists did not disappoint!
The attendees were treated to a viewing of the presentation about Austrian architect and designer of the Frankfurt kitchen, Margarete Schütte-Lihotzky and the efficient kitchen's influence on kitchens ever since. Moderator, Jennifer Cope of Modern Luxury Interiors Texas brought up interesting topics with the distinguished panel including Lihotzky's contributions then and in today's designs. The panelists also delved deeply into the Frankfurt kitchen, such as the Bauhaus elements that are part of the iconic design as well as the traditional workflow such as the triangle placement of the sink, fridge, and range and new organizations of modern kitchens.
the architecture and design panel discussions
The panel talked about how the Frankfurt kitchen was designed for efficiency to create leisure by reducing time in the kitchen. Each panelist remarked about modern-day efficiencies and technology like smart appliances that are extending the leisure time in American and global homes.
The panelists also talked about the evolution of kitchens and trends such as the shift from necessity to excess and consumption and the possibility of returning to minimalism with a focus on necessity. They also shared their current experiences and predictions about the post-COVID era emerging design trends.
meet the frankfurt kitchen event panelists
Professor Dietmar E. Froehlich
A native Austrian having earned a Ph.D. in Architecture, Art History, and Film and Media Theory. A licensed architect in both the US and Austria, Froehlich has lead and collaborated on many notable commercial projects, ranging from hospitals to theaters including numerous winning architectural competitions. Now residing in Houston, he is an  architecture professor and associate dean of the Hines School of Architecture and Design at University of Houston.
Anne Breux
A Paris, France native, now a freelance interior architect in Houston, Texas, by way of an exceptional career in France, New York City, and Los Angeles. Anne has a passion and deep education in art and art history which is evident in her well-curated designs. You can meet Anne and learn from her during her weekly tours as a docent at the Museum of Fine Arts Houston and the Asia Society Texas Center.
Marie Flanigan
Trained as an architect and now is an award-winning interior designer in Houston. Her distinguished designs can be seen in luxury homes and commercial spaces throughout the US, and in premier online and offline publications. She is a sought-after personality for design and lifestyle advice in TV including her most recent role on HGTV's Property Brothers: Brother vs. Brother.
Jennifer Cope
Publisher at Modern Luxury Interiors Texas and moderator of our Frankfurt Kitchen event. 17+ years of experience at the nation's largest luxury media company with additional experience in public relations at one of the nation's largest luxury retailers.
Evan Soltoff
Evan hosted the evening as showroom manager of eggersmann Houston and VP of Operations for eggersmann USA.
German food and libations were enjoyed by the Frankfurt Kitchen attendees. King's Bierhaus curated a delicious German buffet and an assortment of German beers for guests to enjoy. Nothing Bundt Cakes delighted attendees with mouth-watering individual bundt cakes. Our enjoyable bartender came to us from Mobile Intoxicologists of Houston.
All the fun photos were taken by Jacob Power Photography, a referral from our co-sponsor, Modern Luxury Interiors (MLI) Texas.
thanks from the eggersmann houston team
eggersmann Houston staff shown in pictures below and MLI Texas wish to thank the attendees for spending the evening in our German cabinetry showroom. And, also, many thanks to the panelists and everyone who contributed to the success of this event.
Want to know about the next event? Subscribe to our newsletter!