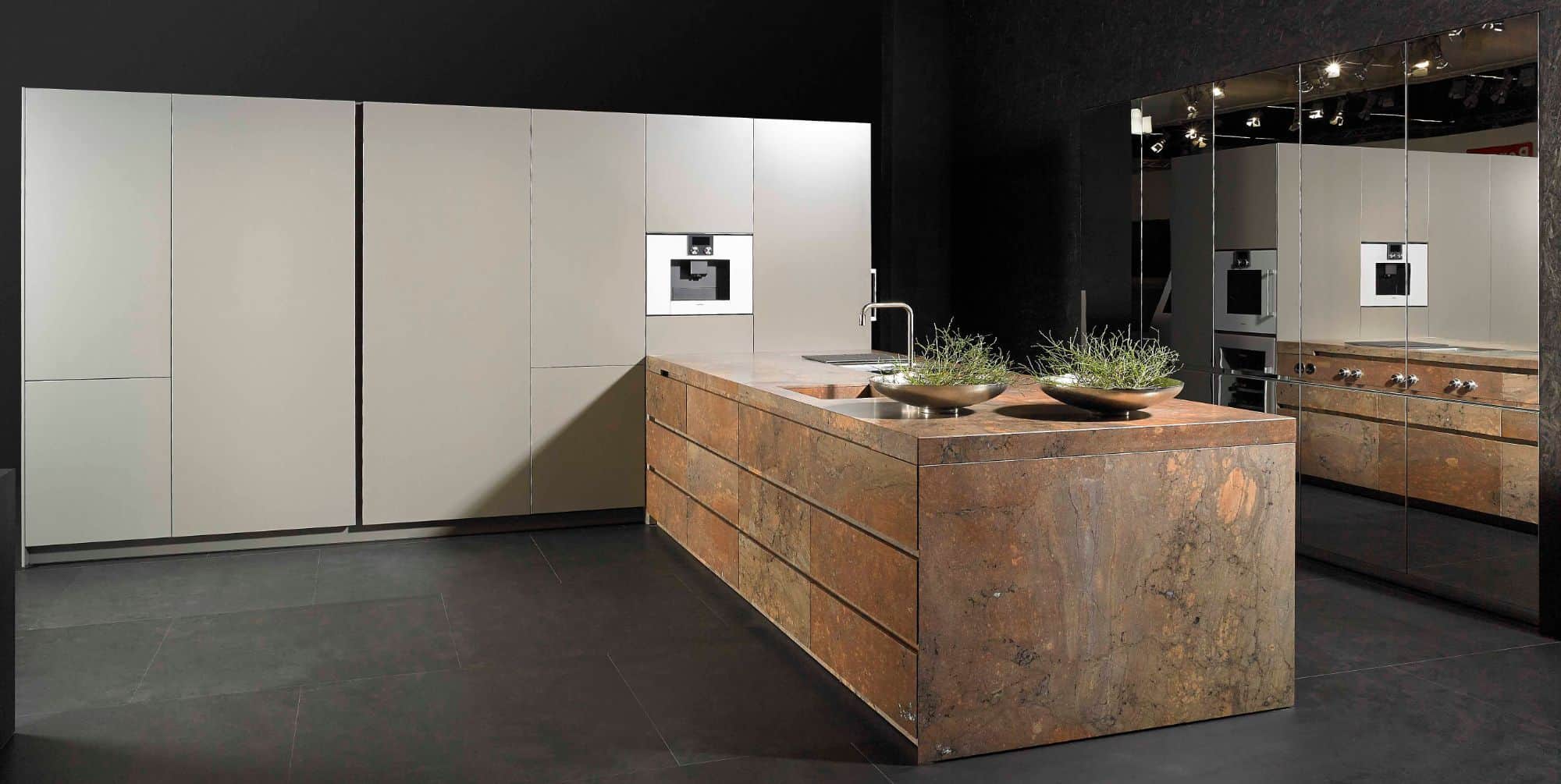 FENIX was introduced in 2013 and quickly became an award-winning design material and favorite of homeowners for countertops, island cladding, and more.
Its exceptionally low light-reflecting matt finish offers a luxe look and silky touch while being incredibly durable. You can remove surface scratches with heat!
FENIX is a truly smart eco-friendly material. The solid surface material comes in dozens of timeless colors for vertical and horizontal applications.
FENIX Core is a next-generation acrylic thermo-setting resin produced using a multilayer coating process. The immense slabs are created by applying heat and pressure simultaneously to achieve a homogeneous, non-porous product. The surface is treated with next generation acrylic resins hardened and fixed through a high-tech curing process using electron beams. The beams scatter a dense grid of cross polymers across the surface, each with their own memory. This gives the self-healing properties that keeps the finish looking like new. Light superficial scratches can be removed by using heat to reactivate the polymer memory to restore its original appearance.
A popular attribute of the impermeable finish is FENIX Core's anti-bacterial and mold-resistant properties. The easy-clean material is resistant to scratching and abrasion as well as to aggressive acid-based solvents and household cleaners. FENIX is water-repellent, hygienic, and anti-fingerprint.
FENIX Core is heat-proof up to 302° F, making it an exceptional choice for kitchen counters and bathroom vanities.
The versatile material is used often on eggersmann's UNIQUE range where the design principle is homogenous vertical and horizontal surfaces with a monolithic aesthetic. It is also a popular countertop material with all our eggersmann cabinetry collections.
Visit an eggersmann showroom to let your own fingertips effortlessly glide an entire island countertop out to reveal a dining table and hidden cooktop or sink.
FENIX Core Specifications
Available in two unique versions:
Solid Core is many dense laminated layers with no trace of wood inside having consistent color all the way through. The absence of wood makes it a perfect waterproof and humidity proof material for front panels, countertops, sides of cabinetry, backsplashes, and wall paneling.
Laminated to Wood Substrate offers the same durable self-healing finish as the solid core format, but a veneer of FENIX applied to a ¾" high-quality furniture board.
FENIX can be beveled, mitered, or notched to fit your design whims. It can be machined with standard carpenter's tools.
FENIX slab specifications:
Formats: 3050mm x 1300mm or 4100mm x 1500mm
Thickness 0.9mm – 12mm
Weight: 19 kg per square meter
FENIX's versatility, durability, and aesthetic appeal have turned heads of many award juries:
Interzum "High Product Quality" Award – Germany 2019
Red Dot Award, Product Design – German 2019
ADI Compass d'Oro Honorable Mention – Italy 2016
Iconic Awards "Product Best of the Best" – German 2016
Interzum "Best of the Best" Award – German 2015
Archidex "New Product" Award – Malaysia 2015
Dwell on Design "Best Design Material" Award – US 2014
MaterialPREIS "First Prize Category" Award – German 2014
eggersmann sets the standard for a responsible use of wood materials and natural resources being the first German industrial kitchen manufacturer to certify according to the strict requirements of the FOREST STEWARDSHIP COUNCIL (FSC). FENIX is no exception with it being an environmentally sustainable product. FENIX is NSF-certified and meets Greenguard IAQ standards for chemical emission limits.