European Design Trends & Salone Milan 2022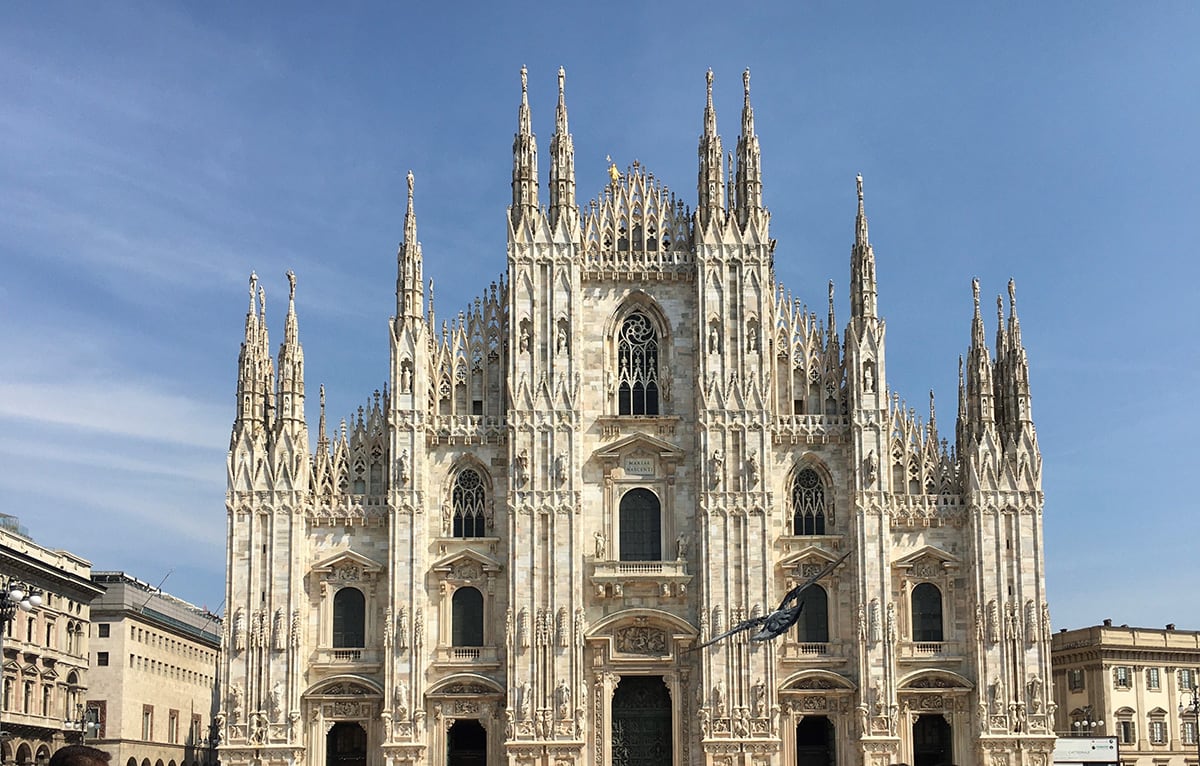 On July 7, 2022, architects, interiors designers, and industry partners gathered at our eggersmann Houston showroom to learn about European luxury design trends. Designer and world traveler, Anne Breux, shown here with Mo Agha from Floor and Decor, led the discussion.
Guests were in awe of her photos and stories from her trip to Europe Spring 2022 including taking in the Salone del Mobile Milan. Anne toured through several countries picking up on trends and enjoying design-focused museums and exhibits. The eggersmann factory in Hiddenhausen, Germany, was lucky to have her drop by with her Texas design team to see some of our soon-to-be-unveiled innovations. We have shared a few highlights of her presentation below.
We so appreciate Anne taking time to put together a presentation and share with us and our guests.
The thoroughly entertained and informed participants enjoyed networking and a delicious lunch after Anne's presentation.
highlights from anne breux's euro design trend presentation
A photo outside the Milan Trade Fair shows the current growth of greenery and nature around the undulating glass structure.
The Fair was designed by Massimiliano and Doriana Fuksas in 2005.
Marvel at the beauty of the sweeping glass connecting to nature and the lush greenspace.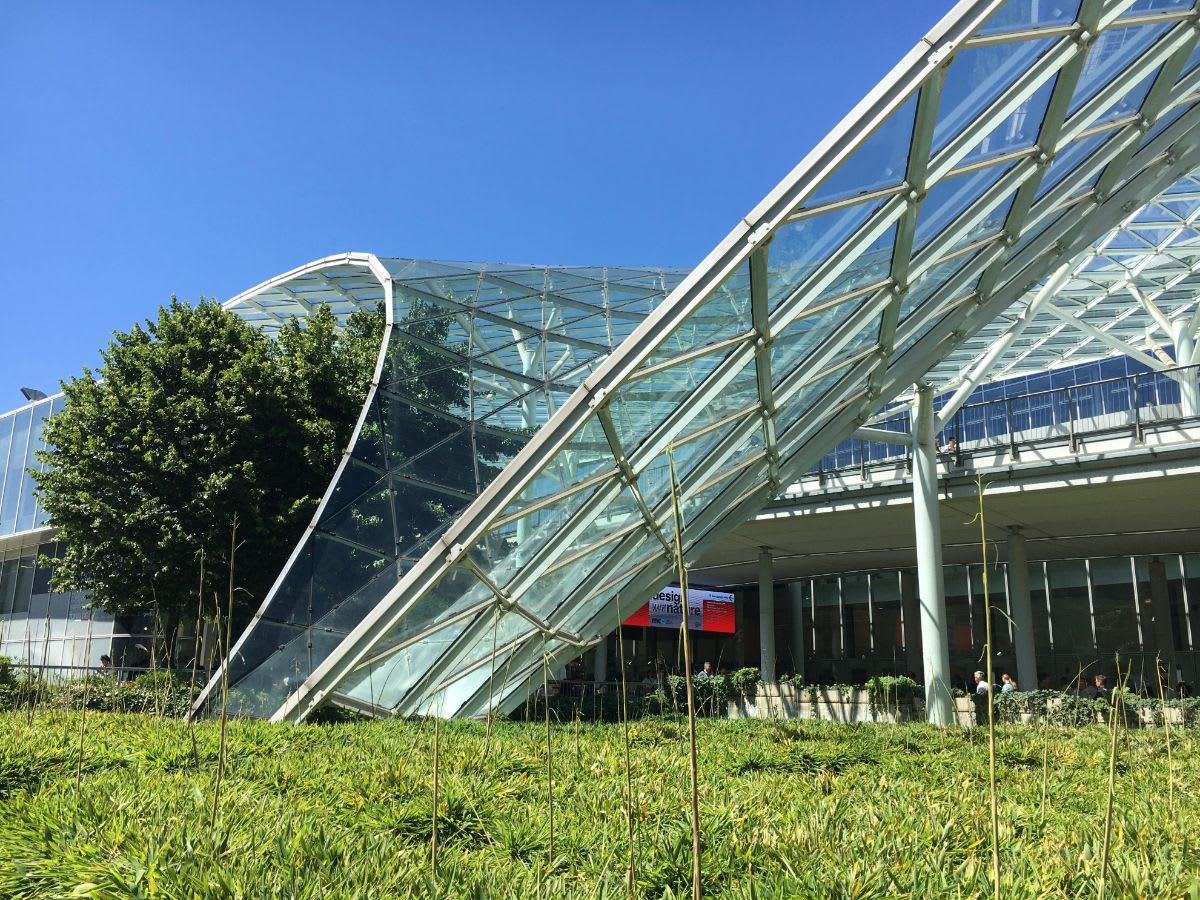 kohler/arsham exhibit at milan's palazzo del senato
Kohler and artist/designer, Daniel Arsham, announced a multi-year relationship with the unveiling of the Divided Layers exhibit at the historical Palazzo Del Senato in Milan. The exhibit was inspired by the design of a sculptural sink called Rock.01 produced by Arsham with Kohler using sustainable 3D printing technology in ceramic.
He took the organic shape of the depression of the sink and sliced it into segments to create a visual and immersive art installation. This is truly a merge of new and old together in harmony. Daniel's work is always groundbreaking including his work in surrealism complimented by 3D-printed materials.
Subscribe to our YouTube Channel
sculptural stone island by eggersmann
Anne got a sneak peek of a fresh kitchen design concept with sculptural stone island work and a sliding screen doors with sophisticated hardware solutions at the eggersmann factory in Hiddenhausen, Germany.
The expertly engineered concept was devised in cooperation with Yabu Pushelberg architects and the eggersmann design team.
Anne and the Texas team toured the eggersmann factory a month before Milan to see many innovative cabinetry and home living solutions.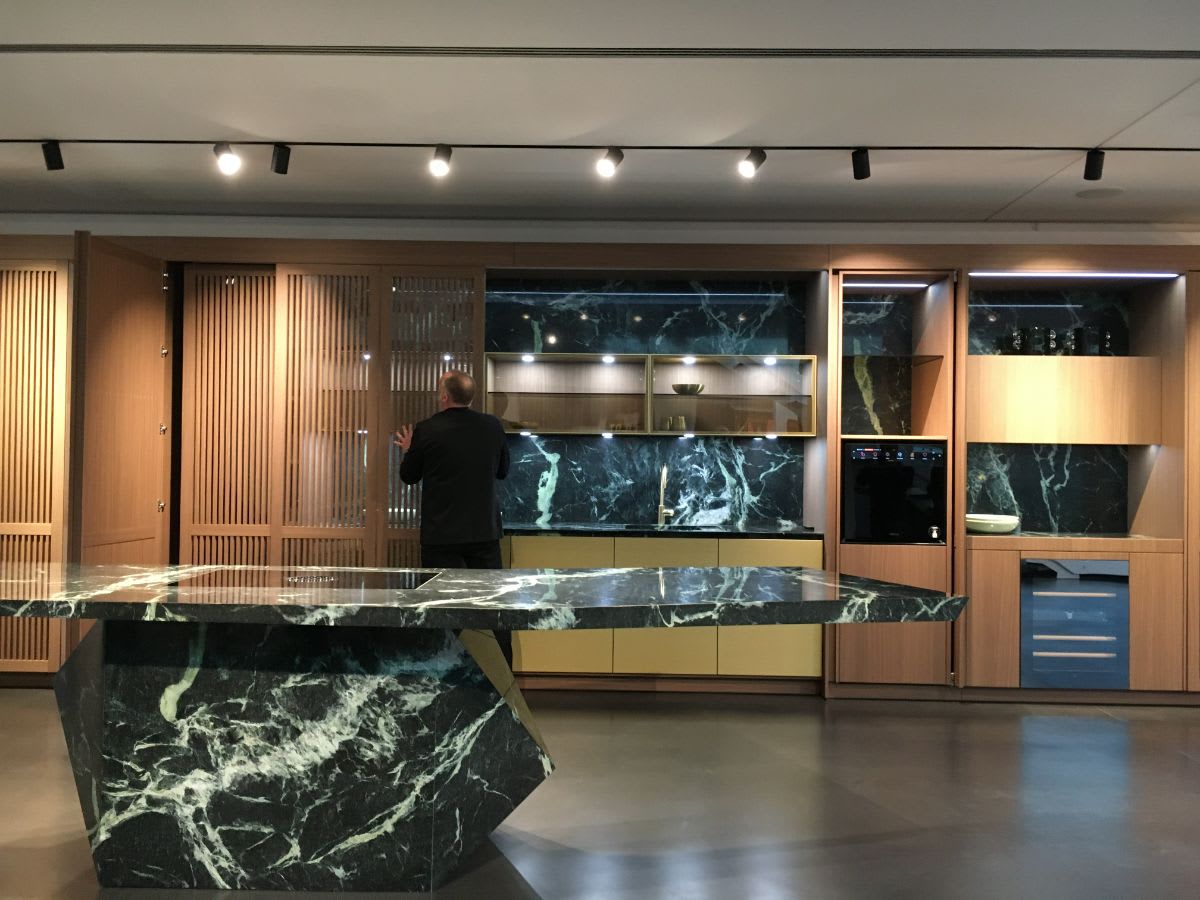 70's furniture re-imagined by acerbis
Arcerbis Furniture's use of shape and color harken back to the 70's in terms of the shape, function, and style.
But the contemporary pieces are thoughtfully  re-imagined with new and sophisticated materials to advance the already-perfected 70's era style.
The use of color, curves, and shapes were all present in the Milan fairgrounds during Salone del Mobile.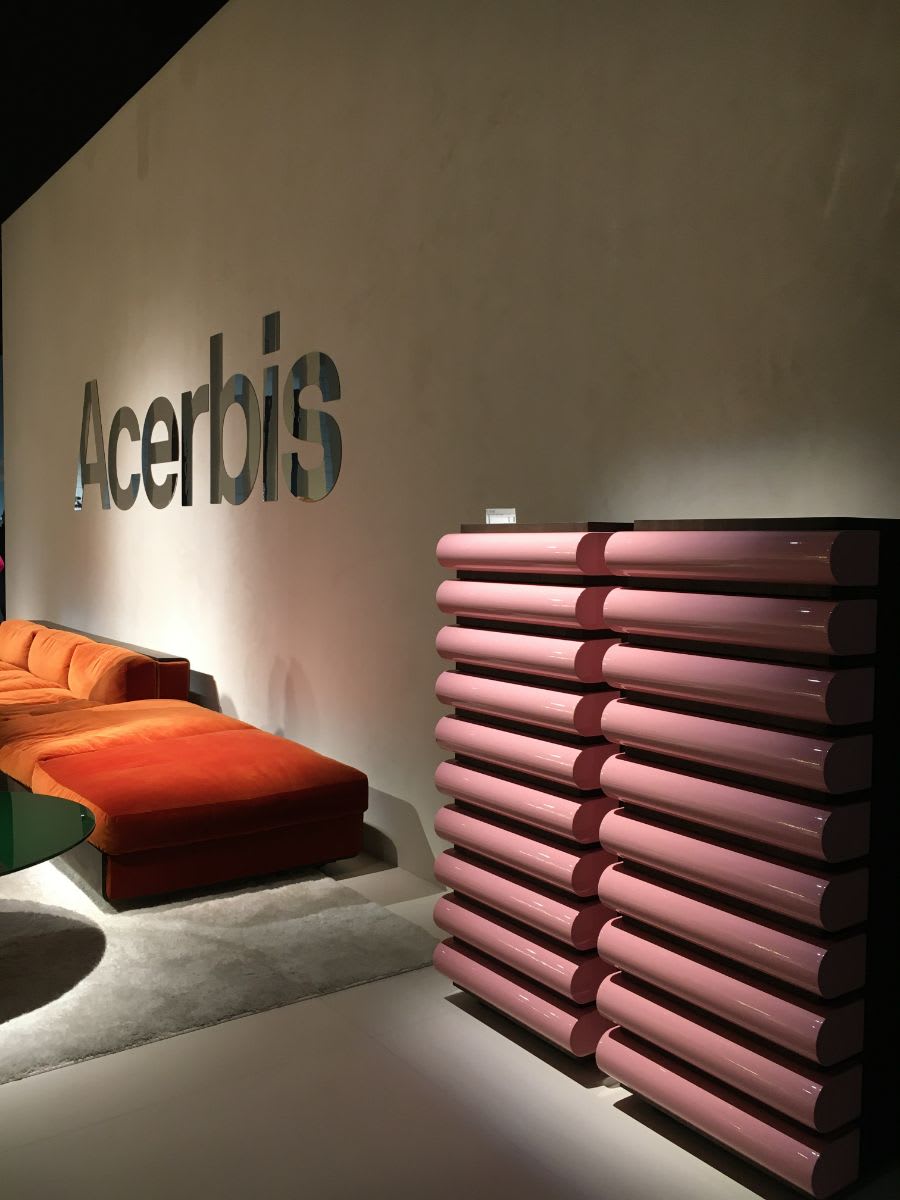 adi design museum in milan
The glass frontage and ceiling of the brand new ADI Design Museum in Milan.
This is one of the most important museums for design and architecture in the world celebrates more than 2300 recipients and honorably mentioned of the renowned industrial design award, Compasso D'oro (Golden Compass), since its inception in 1954.
This permanent museum exhibit and the prestigious award do not discriminate in size or scope of a design project, but simply focuses on its golden ratios and lines.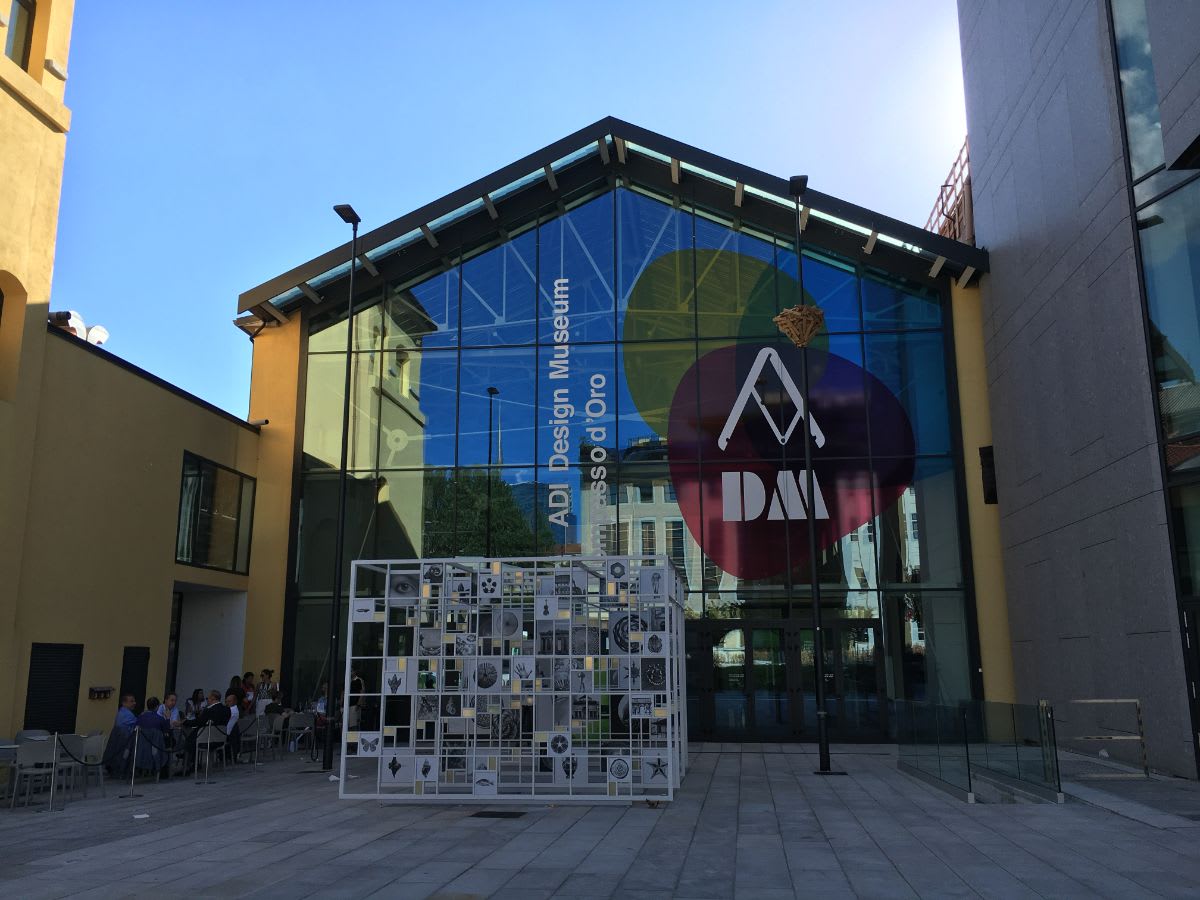 MARTa museum herford germany
Our designer team from Texas, including Anne, are shown outside the Frank Gehry-designed MARTa in Herford, Germany.
A large statue of Tupac stands at the front of the building. Note the sweeping roof of Gehry's trademark design in the corner of the picture of the museum and team.
The museum is surrounded by picturesque country style homes in this quaint hamlet. It is quite an impressive musuem for a small town.