A new luxury home full of eggersmann German cabinetry and its innovative concepts from a safe room behind a hidden door to a dog kennel room. This family created their forever home with concepts that appeal to anyone. This stunning new construction home replaced an older home in Bunker Hill Village, one of the heralded Memorial Village on the west side of urban Houston.
The exceptionally large, wooded lots and community feel draw those seeking to live graciously and comfortably. While feeling like country living, hundreds of restaurants and shops are within a few miles for convenience.
Our clients were key to our team as they knew what they wanted and had ample space to create the functionality and storage they needed for their "forever" home. Andrea Villamarin led the eggersmann Houston design team collaborating with the builder, Post Oak Homes, and an incredibly talented interior designer in St. Petersburg, Russia.
We were thrilled when our client wanted to write her family's story as part of sharing this project on our website. Our client's own words follow.
As a cosmopolitan family, with backgrounds in England and Russia, and children raised in Texas over several decades, it made sense for us to build our "forever home" in Houston, the most diverse city in America.
Turning that forever vision into reality was a real challenge and took three-years' work from purchasing the lot to moving in to achieve. To help us on the journey, we hired some great local companies as architects, builders, and landscapers, and supplemented their talents with the unique skills of a design firm located in St. Petersburg, Russia.
With the international flavor of the project, it was natural to select eggersmann to complete the team due to their strong company reputation in Europe and the USA. Their design, service, and craftsmanship were to a very high standard. Working with Senior Designer, Andrea Villamarin, was a pleasure. She was professional, knowledgeable, creative, and patient throughout and key to the success of working with eggersmann.
Pulling this global team together was an exciting and challenging collaboration process that produced a unique and timeless design, inside and out.
The home is located on one acre of land with many mature trees. It has a resort style feel to it with beautiful landscaping, a raised vegetable garden, and a 64′-long pool with a sun deck and small waterfall. It has many energy-efficient features, including solar panels with batteries for back up and energy storage.
The goal was to build a home that was different from today's trends, but with a design that would stand the test of time for decades to come. This was achieved through an open and flowing design,and by emphasizing natural stones and wood supplemented by brass and other metals throughout the home.
It was a challenge, but it was worth it!
Thoroughly modern with clean lines and calming palette, this kitchen draws you in with its warmth and eclectic personality that matches its family.
Its oversized island with seating for six in ultra-comfy barrel stools takes center stage inviting all to sit and chat while the chef works his or her magic. The all-Miele appliances make everyday meal prep as well as large dinner parties a joy.
This cavernous butler's pantry is enviable. No open shelving means no dust and a thoroughly modern design for storage of all your food, kitchen appliances, entertaining accessories, and other household items that may overflow into this highly functional space.
The dark countertop at the rear of the pantry give an interesting focal point as well ample room to stage prepped food and servingware for large parties.
Interior lighting and ample shelving and drawers in each cabinet ensures easy location of all of your well-organized items.
Durable finishes make cleaning and maintaining the cabinery's good looks a breeze.
Having a television and electronics is convenient for family enjoyment and for parties featuring the big game. But it needn't look ordinary. The eggersmann team designed an incredibly functional media center to make the TV disappear into a modern blocks design. Additional hidden storage and art niches offer a lot of versatility.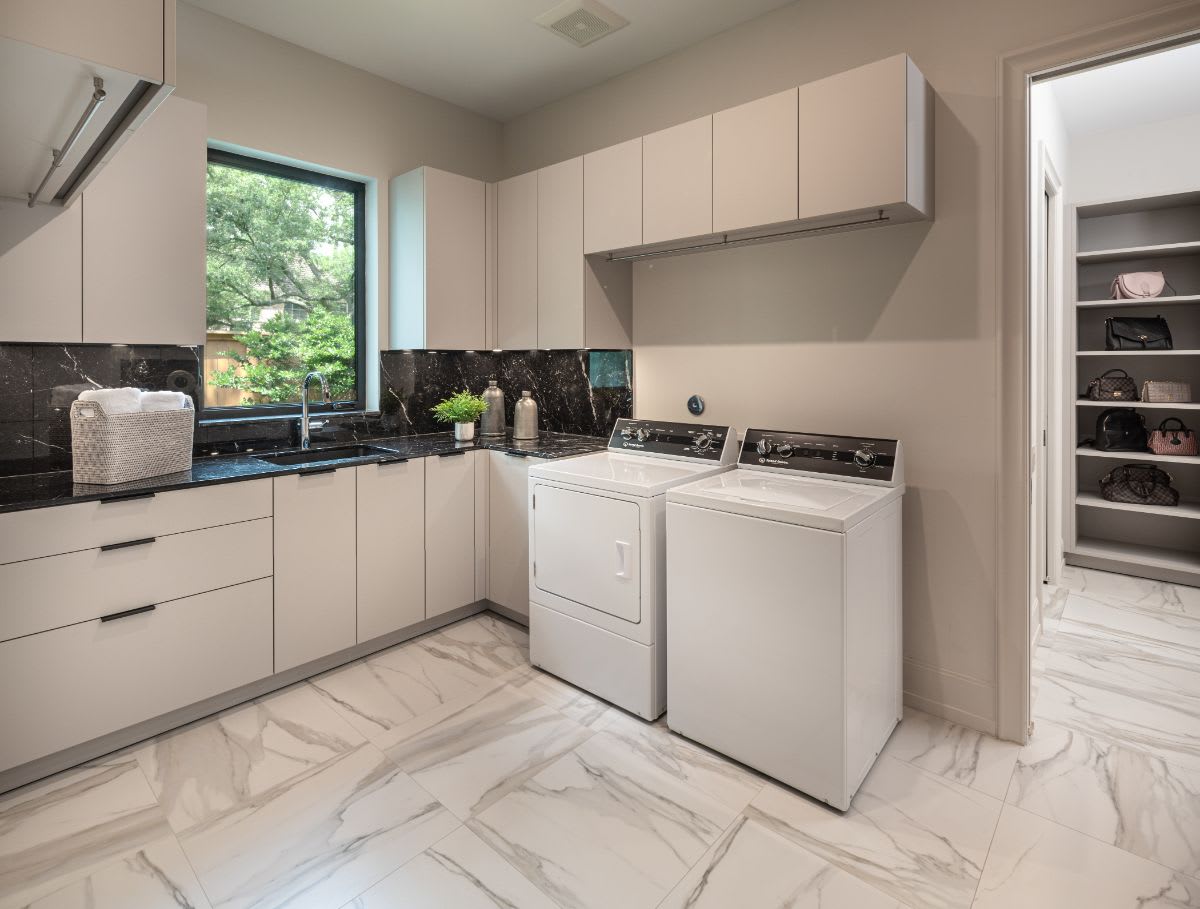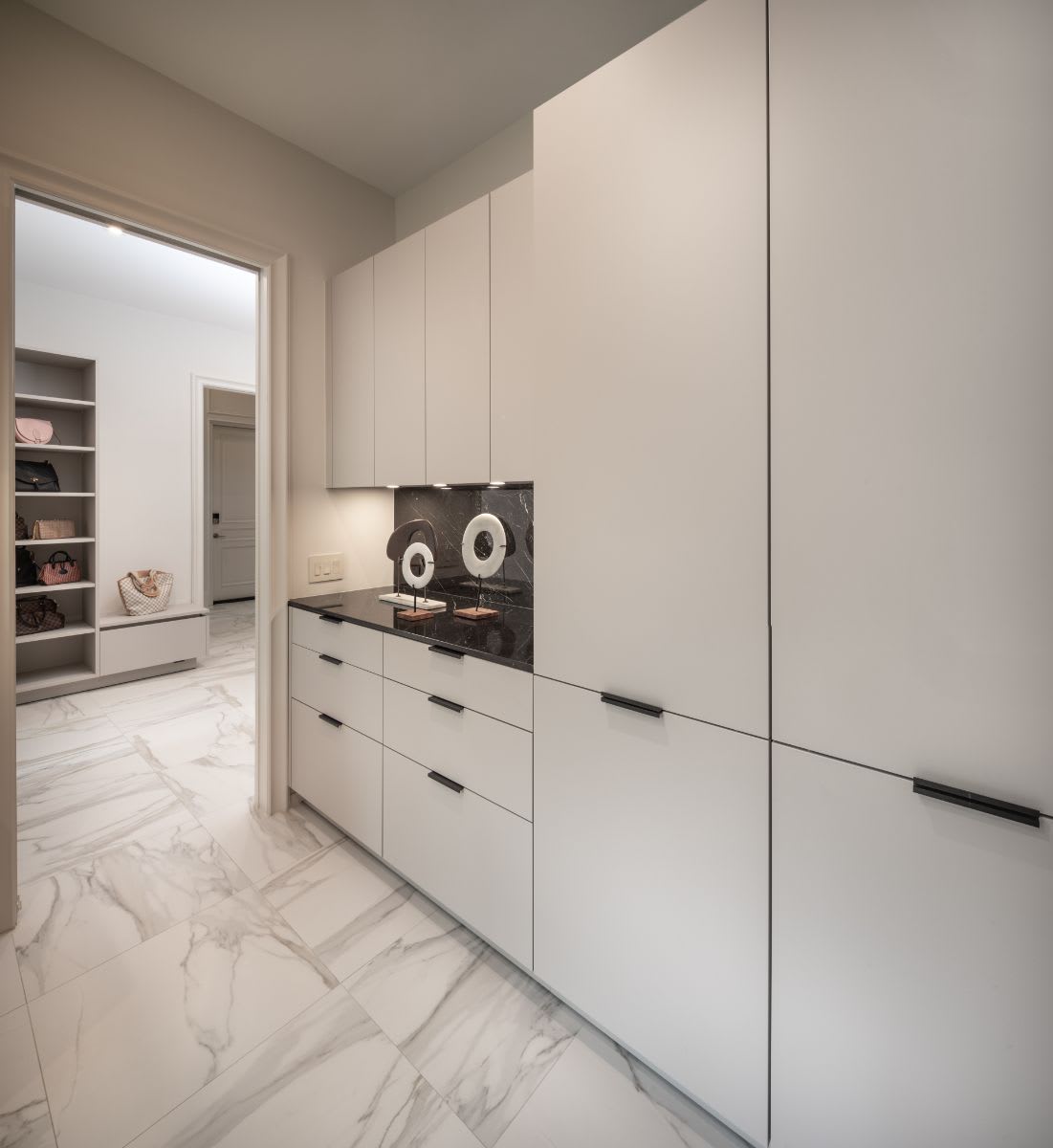 You can never have enough storage behind closed doors and our clients agreed. Adding more ultra-modern cabinets with European style fronts to a large mudroom kept the clean lines and ample storage going in this whole home design.
The utilitarian room keeps the outside stuff close to the outside while looking quite chic.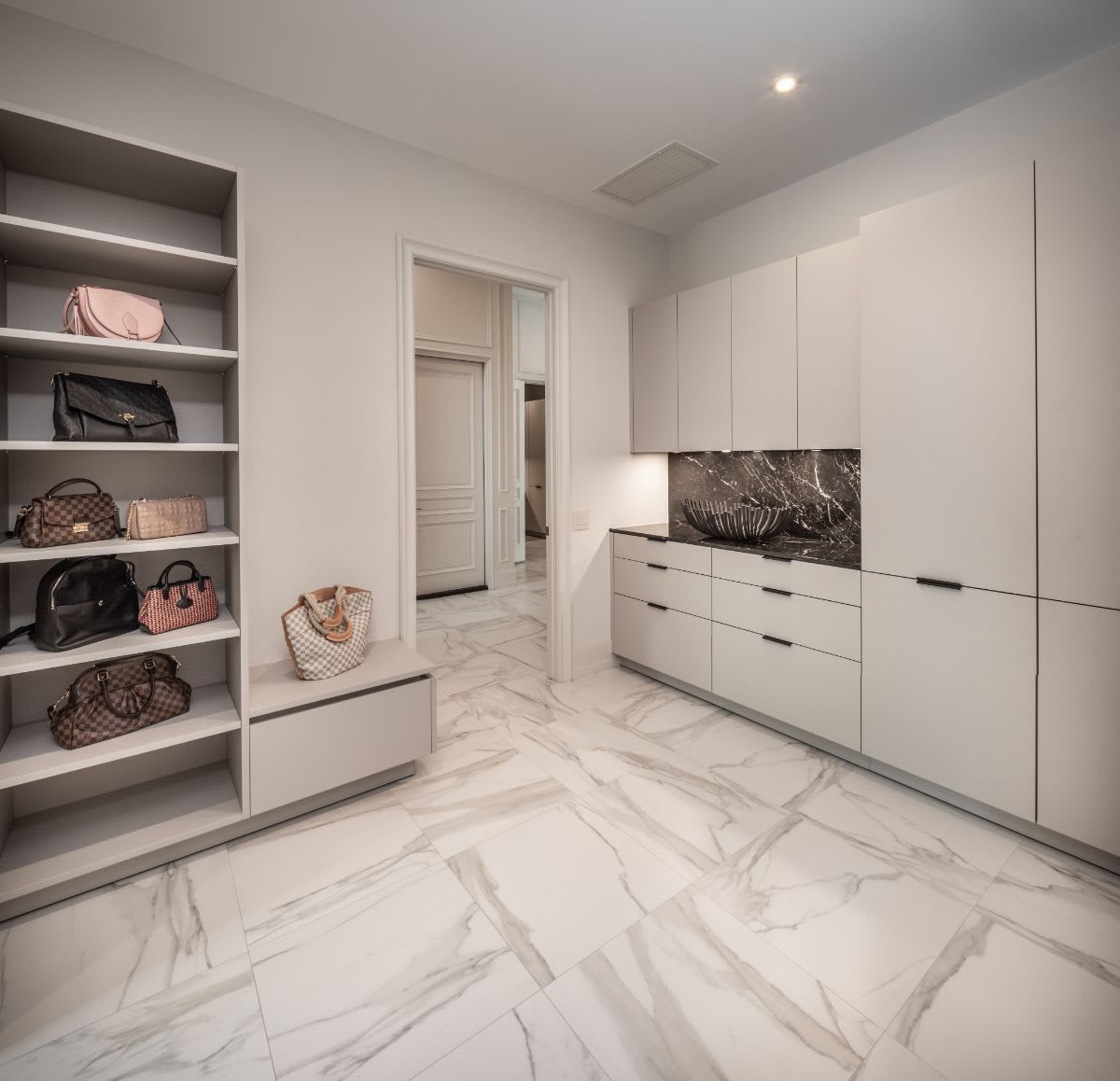 This family loves their canine kids so much so that they built them their own room complete with a kennel and super convenient dog wash.
The suspended cabinet above the dog kennel sits on a metal platform rather than being mounted to the wall. This enables the shallow cabinets to "float" out from the wall giving the pups plenty of ventilation at the back of the kennels for their comfort.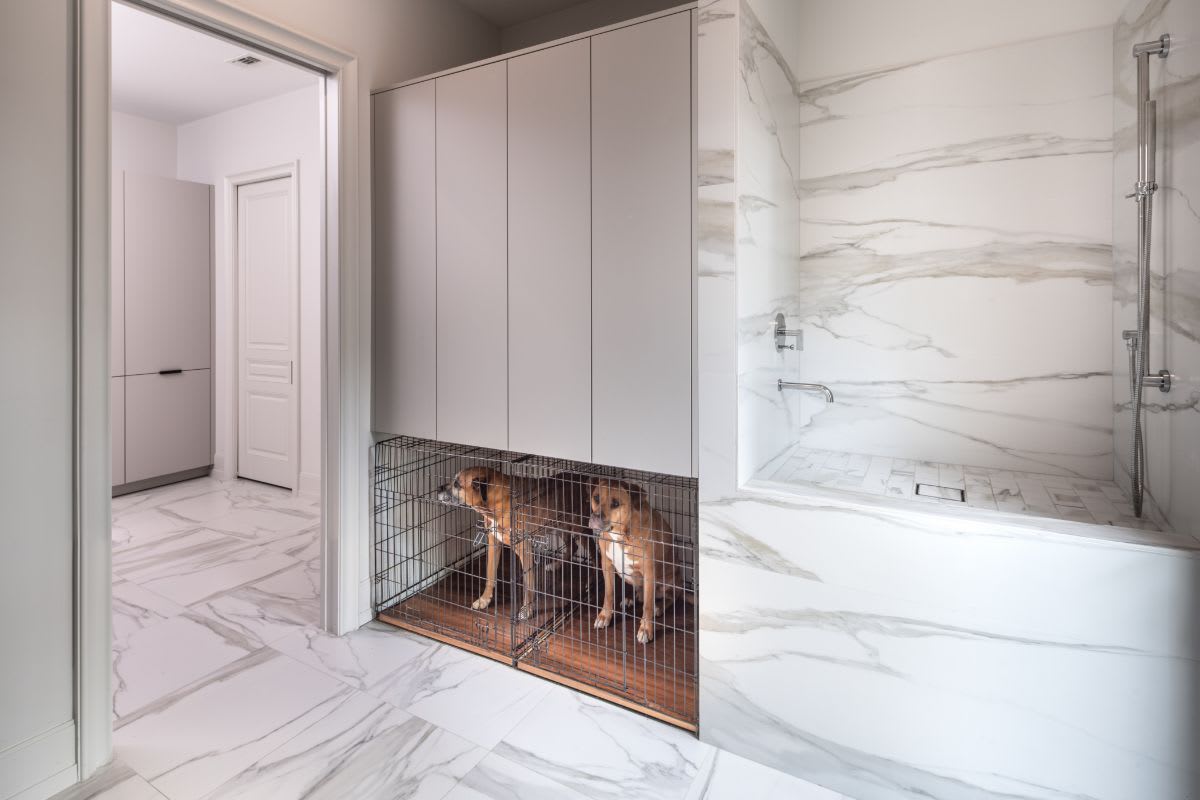 his & her walk-in wardrobes
Made-to-measure wardrobes were crafted for each of the couple's fashion and accessories. The perfect mix of shelving, drawers, hanging rods, and cabinet space make getting dressed for the day a pleasure.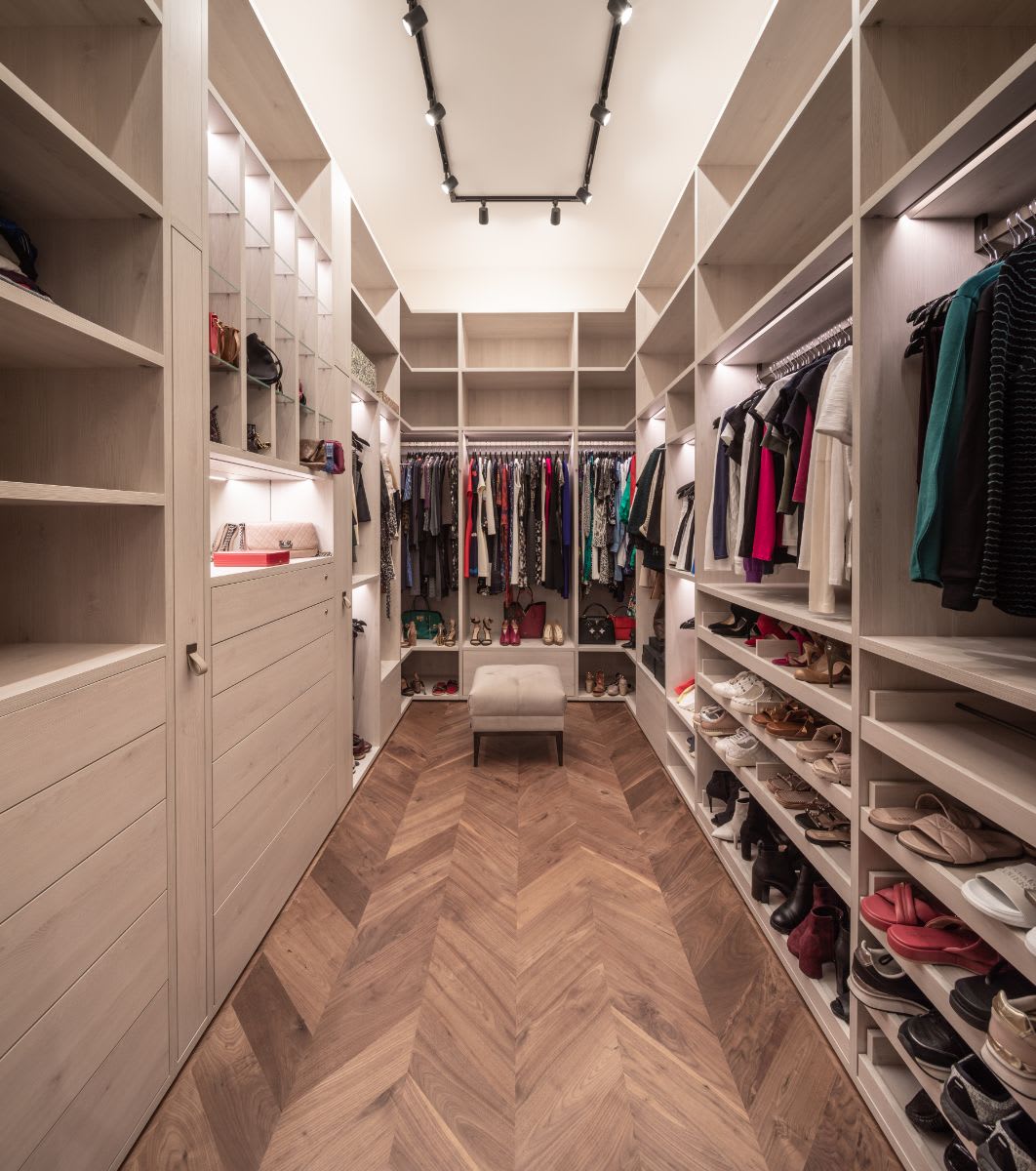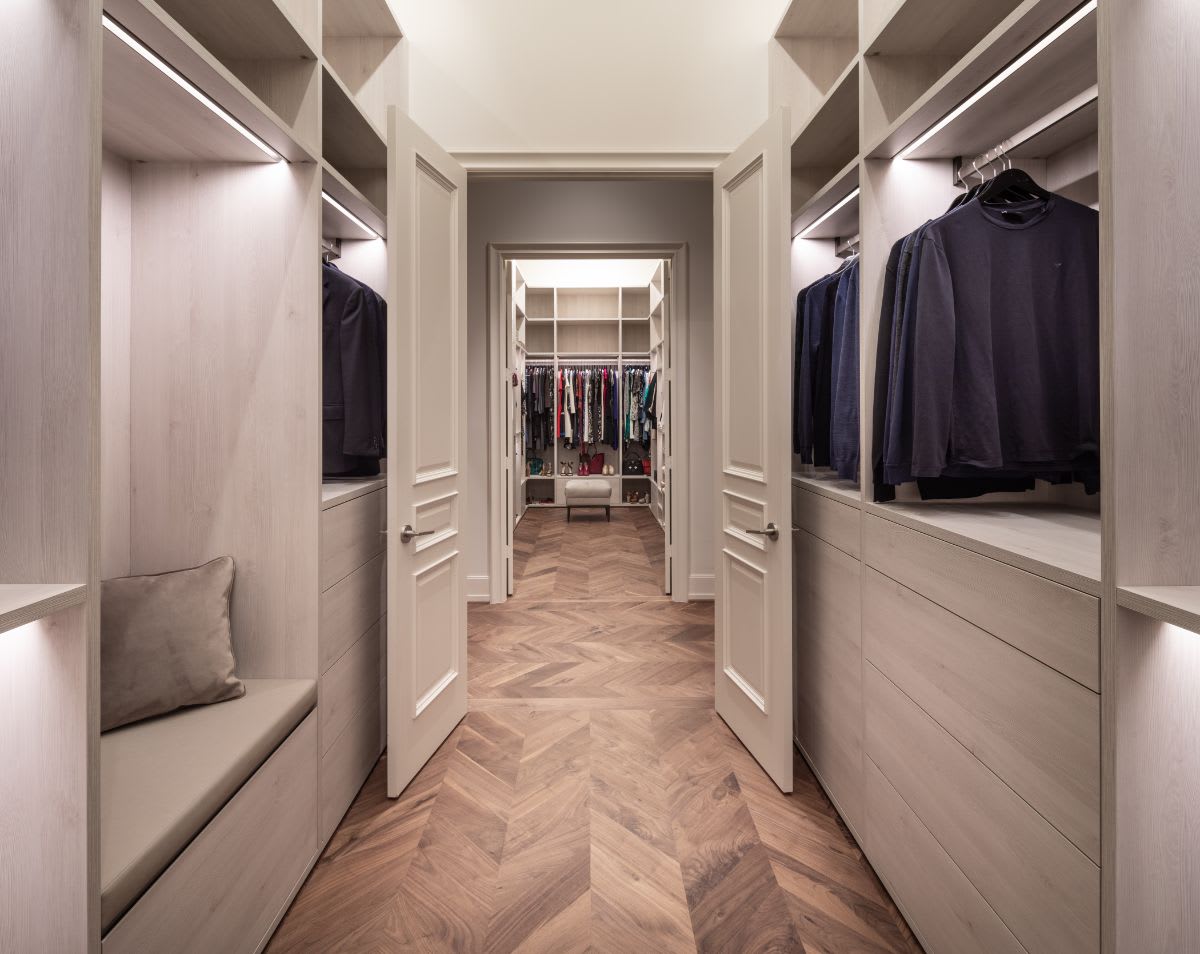 Her closet includes a hidden safe; his closet, a hidden door to a safe room.
This super-sized guest wardrobe may have their guests becoming permanent residents! If nothing else, it gives ample room to store those mementos and heirlooms many families find hard to part with.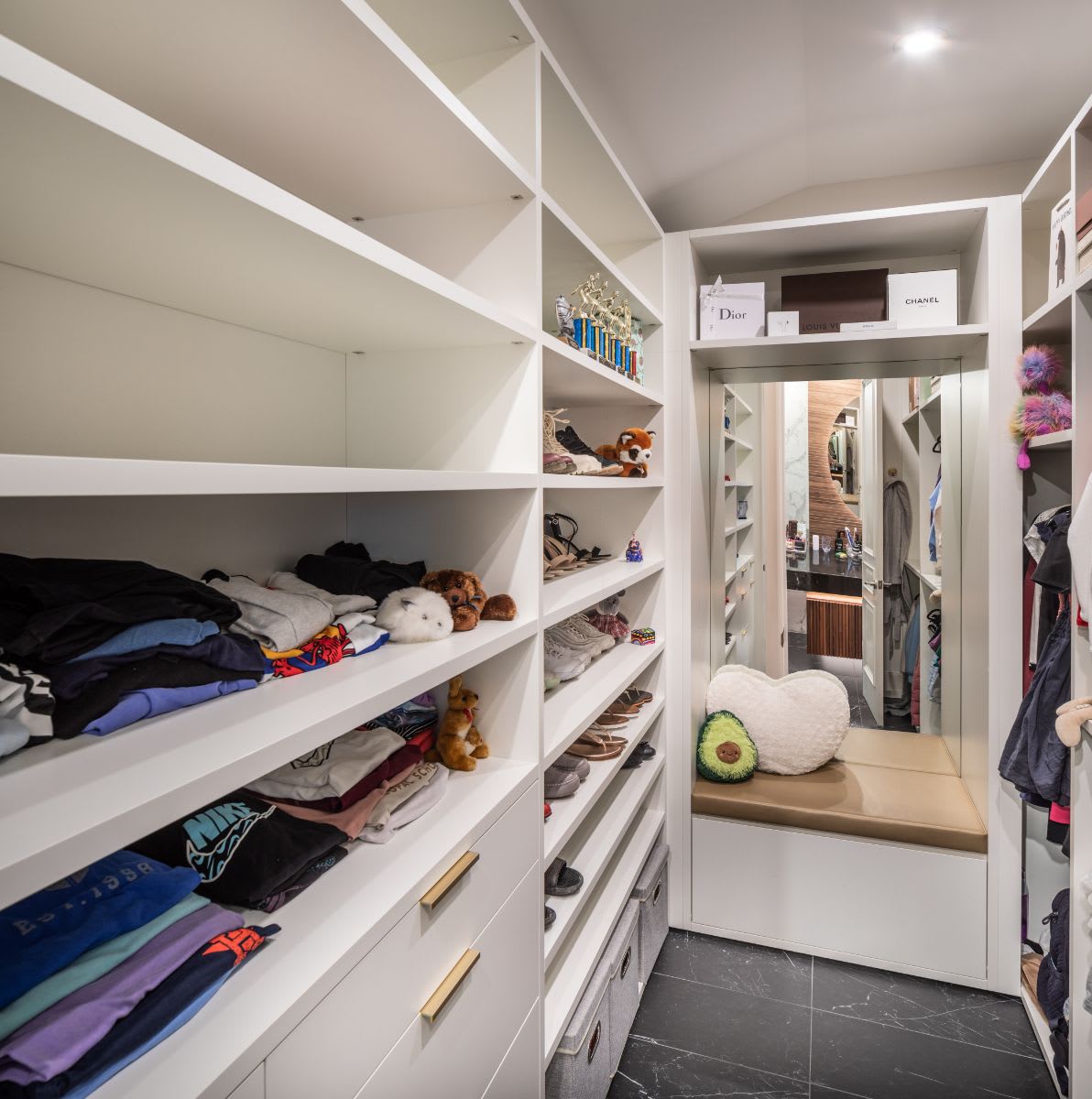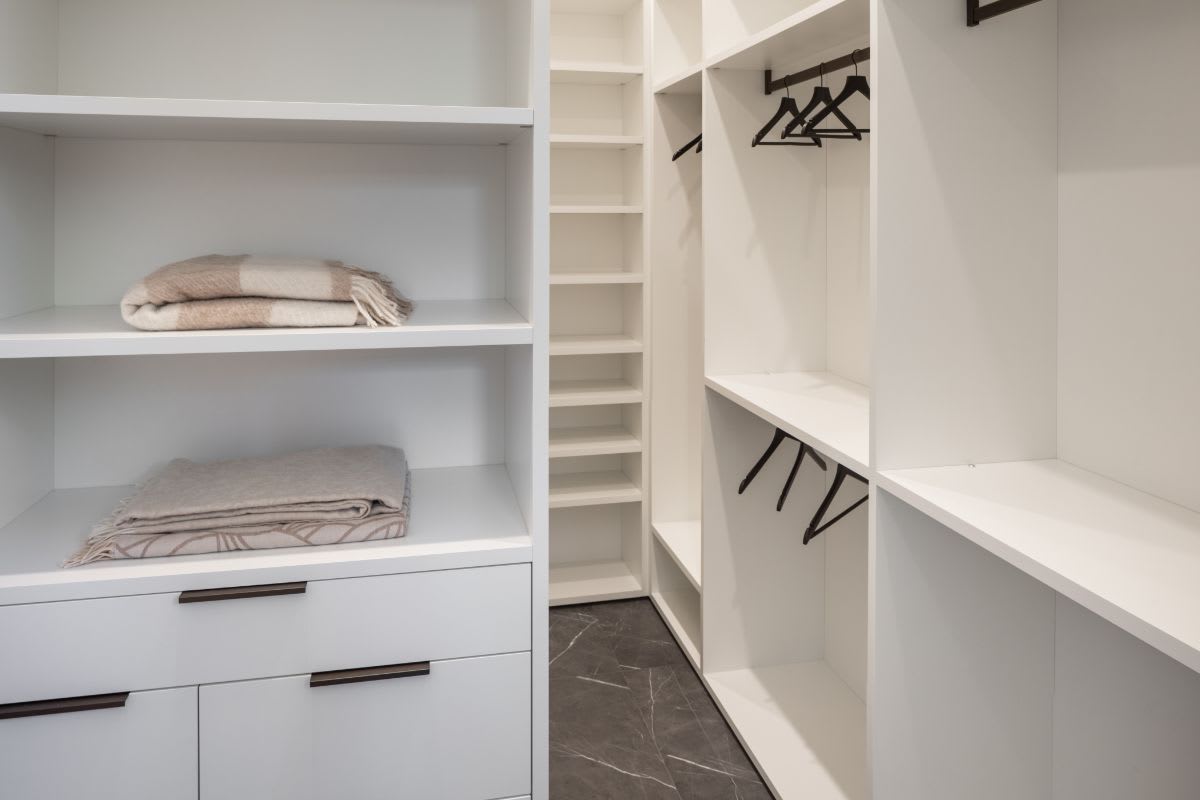 kitchen
BASE, TALL, MIDDLE ROW WALL CABINET

FRONTS: "Karat" Range
FINISH: Custom RAL Color # 7036 Platinum Grey, Matt Lacquer

BOTTOM ROW WALL CABINET

FRONTS: "Vancouver" Range
FINISH: Custom Walnut

ISLAND

FRONTS: "Paso " Range
FINISH: Nano Black # 2712

TOP ROW WALL CABINETS

FRONTS: "Vetro" Range (SAR style door)
FINISH: Glass door w/ Black Anodized Aluminum Frame w/ Clear Glass
PILLARS & FIXED BACK PANELS: "Modena" Range FINISH: Matt Lacquer to match Nano Black #2712

HANDLES

CABINETS: e:sign channel in matching cabinet finish
FRIDGE/FREEZER: y:channel in matching cabinet finish

PLINTH: Nano Black #2712
butler's pantry
FRONTS: "Macau" Range
FINISH: Kashmir # 2307
HANDLE: E:Sign channel in matching cabinet finish and 88.812 Black edge grip
laundry
FRONTS: "Macau" Range
FINISH: Kashmir # 2307
HANDLE: E:Sign channel in matching cabinet finish and 88.812 Black edge grip
mudroom
FRONTS: "Macau" Range
FINISH: Kashmir # 2307
HANDLE: E:Sign channel in matching cabinet finish and 88.812 Black edge grip
dog kennel & wash room
FRONTS: "Macau" Range
FINISH: Kashmir # 2307
HANDLE: Touch Latch
her walk-in wardrobe
CASEWORK: Schmalenbach
CASEWORK FINISH: Decor Pine White
HANDLE: Touch Latch
DRAWER FRONTS: Decor Pine White
HANGING ROD: Light Bronze
LEATHER: Birch F5076077 Sorrento EN
his walk-in wardrobe
CASEWORK: Schmalenbach
CASEWORK FINISH: Decor Pine White
HANDLE: Touch Latch
DRAWER FRONTS: Decor Pine White
HANGING ROD: Light Bronze
LEATHER: Birch F5076077 Sorrento EN
guest closet
CASEWORK: Schmalenbach
CASEWORK FINISH: Decor White
HANDLE: Edge grip Light Bronze
DRAWER FRONTS: Decor White
HANGING ROD: Anodized Aluminum Light Bronze
LEATHER: Galucha Pewter 01
learn more about eggersmann solutions
"*" indicates required fields