arabella houston overview
Thirty-three stories of unbridled opulence nestled in the Tanglewood community between Houston's preeminent River Oaks District and internationally famed Galleria offer 99 condos. The lucky high-rise residents enjoy sweeping panoramic views of the city's prime entertainment, retail, and business areas including Downtown Houston, Memorial Park, Greenway Plaza, the Med Center, and the Reliant Stadium complex.
When you arrive to this jewel just inside the Loop (US 610), its magnificent lobby signals the splendor of the apartments that await. The lobby's 22′ high ceilings, marble floors, chandeliers, unique fireplace, and artful seating welcome its residents and their fortunate guests at 4521 San Felipe St.
Walkability
It most unusual distinction, rare for a Houston residence, is its walkability. Whether strolling to Steak 48, Del Frisco's Double Eagle, Ousie's Table, or any number of exceptional restaurants or walking to Whole Foods or Central Market, access to the best culinary experiences are at your door. Entertainment such as the Marvel movie at iPic Theatres and elite shopping at Cartier, Hermes, Tom Ford, and others is just around the corner.
Amenities
Of course, that means that you will ever want to leave your contemporary oasis that offers most everything you could want. The Arabella features attentive amenities including full-service 24-hour concierge, valet parking, private garden, and indoor and outdoor pools. The amenities flow into the individual units with guest pied-à-terre, private elevator entries for most floor plans, state-of-the-art fitness centers,  balcony with wine fridges, and features gourmet kitchens with Miele, Gaggennau, or equivalent appliances.
Penthouses…yes, plural
The penthouses take the features even further! Of the 13 penthouses, 10 of them feature sky pools overlooking the Houston landscape. To create a relaxing haven for penthouse residents, additional features include heated floors in the master baths,enclosed private garages with storage spaces, pre-wiring for automatic solar shades or blackout curtains for all windows, upgraded kitchen appliances, and more.
The team at the Houston eggersmann showroom were thrilled to work with serial high-rise residence developer, Randall Davis Co., and amazing designers such as 212box, to create timeless cabinetry and innovative living solutions for Arabella homeowners. One of those residences is featured below.
custom-designed penthouse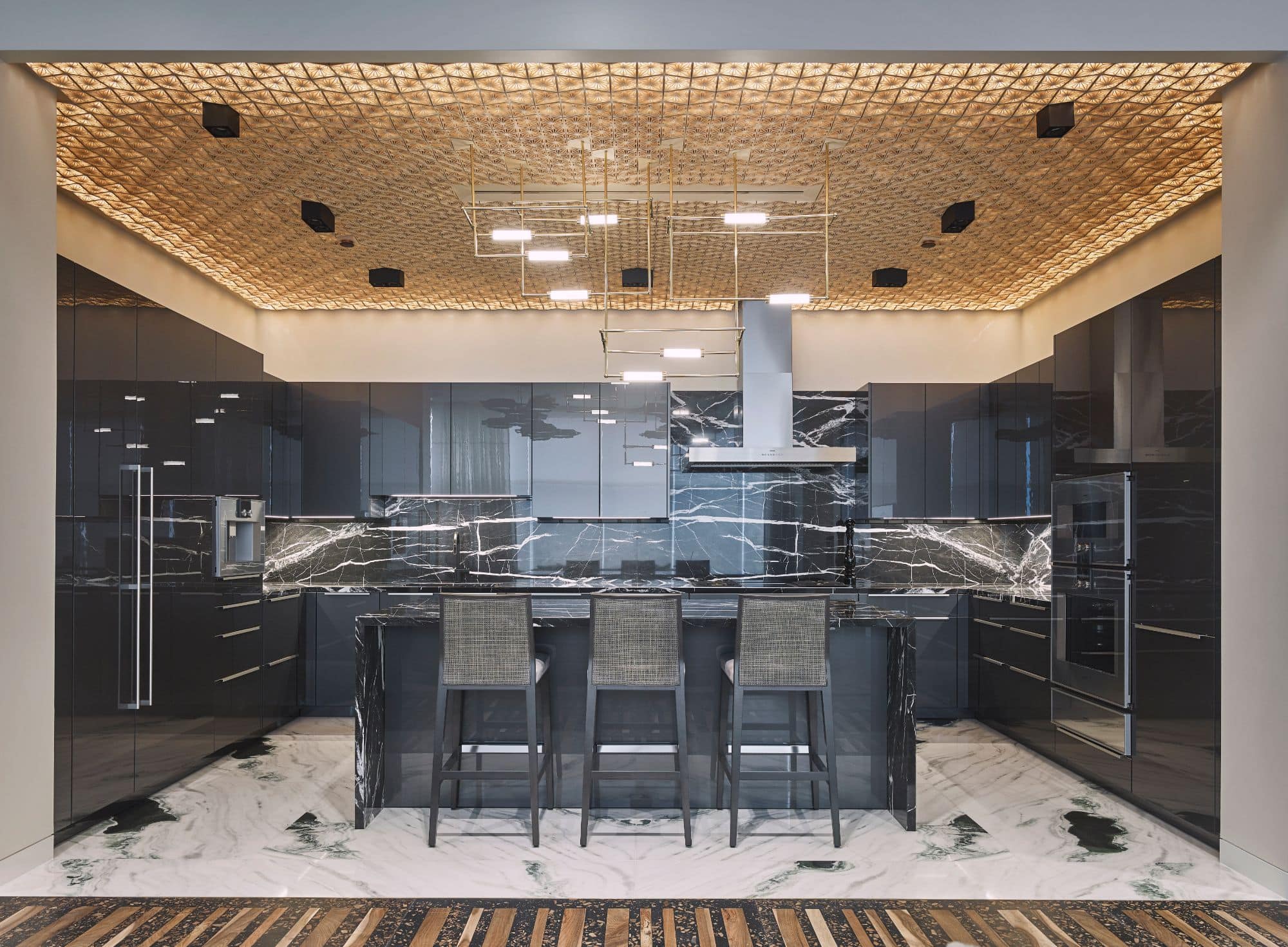 The top floor penthouse was purchased as a Houston-based pied-à-terre for a discerning couple with an interest in art and design. The homeowners employed 212box designers after experiencing the magnificent Arabella lobby they designed.
212box's Eric Clough (noted designer of Christian Louboutin retail stores) and his partner, Eun Sun Chun, collaborated with more than 50 brilliant artists and artisans and other designers including eggersmann. The duo worked with eggersmann to craft a bold, eclectic, and unexpected artisan style for the home's kitchen and baths.
Houston eggersmann designer, Evan Soltoff, created a dark understated kitchen with Gaggenau appliances and Sub-Zero refrigeration.
The Kitchen
The kitchen is complete with Acrylux anthracite metallic dark grey cabinets with the soffit-high backsplash and countertops [including the island's waterfall] were crafted from high-contrast, white-veined Calacatta Black marble.
Collaborative efforts produced a jewel box kitchen with a stunning unique ceiling from wooden tiles created by one of oldest Japanese screen makers using processes similar to the traditional kumiko woodworking technique.
Accenting this natural ceiling feature is an ultra-modern Astropol chandelier constructed from a sculptural grid of tubes.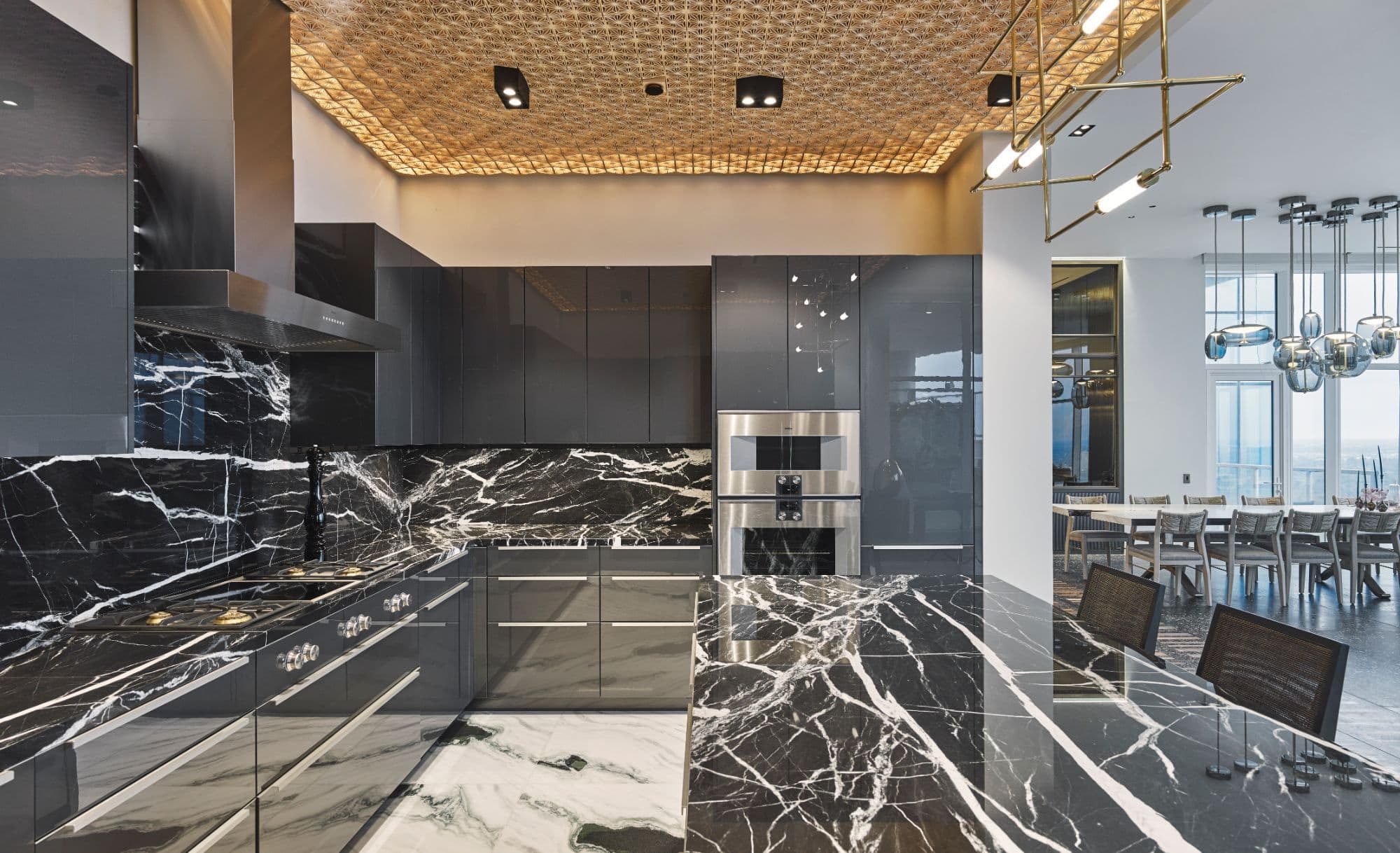 get more projects and news about eggersmann in your inbox
"*" indicates required fields